Telegraph editorial 'makes no apology' over HSBC coverage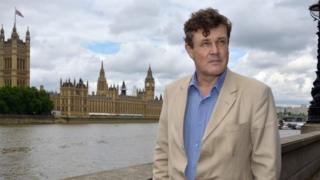 The Daily Telegraph has published an editorial saying it "makes no apology" for its coverage of the HSBC tax scandal.
The paper's chief political commentator Peter Oborne resigned on Tuesday, saying prominence was not given to the story because of commercial interests.
The newspaper said no subject or story was "off-limits" to its journalists.
It said it would draw up rules defining "clearly and openly how our editorial and commercial staff will co-operate".
It also comes after more than a dozen journalists told BBC Newsnight that the paper had problems keeping its advertising department separate from its journalists' work.
In one case, the review for animated film Despicable Me 2 was bumped up from a two-star rating to three stars for commercial reasons, journalists said.
In its editorial, the Telegraph said: "This newspaper makes no apology for the way in which it has covered the HSBC group and the allegations of wrongdoing by its Swiss subsidiary."
The paper said allegations that HSBC helped hundreds of people evade UK tax using hidden accounts in Geneva had been "enthusiastically promoted by the BBC, the Guardian and their ideological soulmates in the Labour Party".
"We have covered this matter as we do all others, according to our editorial judgment and informed by our values."
It continued that, in an age of "cheap populism and corrosive cynicism about wealth-creating businesses", the Telegraph was "proud to be the champion of British business and enterprise".
"We have defended British industries including the financial services industry that accounts for almost a tenth of the UK economy, sustains two million jobs and provides around one in every eight pounds the Exchequer raises in tax."
But it said the paper's support for the financial services industry had never "blinded" it to the failings of the industry.
It pointed to previous stories including a 2012 story about an HM Revenue and Customs investigation into HSBC offshore accounts in Jersey. It also highlighted its work to reveal details of MPs' expenses claims.
'Fundamental principles'
It also pointed to differences between The Daily Telegraph and its owner, Telegraph Media Group, and other media organisations.
"Unlike the BBC, we receive no support from taxpayers. Unlike the Guardian, we are not cushioned from commercial reality by a generously-endowed charitable trust. Unlike the Times, we receive no subsidy from tabloid stablemates," it said.
Restating its "fundamental principles", the newspaper said its journalists would "follow the facts without fear or favour and present the results of their work to you solely on their journalistic merits, according to their sound editorial judgment and no other consideration".
Mr Oborne said on Tuesday that an assessment of the relationship between advertising and editorial at the newspaper was needed.
He said the newspaper's recent coverage of HSBC had "placed what it perceives to be the interests of a major international bank above its duty to bring the news to Telegraph readers".
Media commentator Roy Greenslade told BBC Radio 4's Today programme the Telegraph's editorial attacked other media outlets, but did not mention the fact that the whole row had started "because their own chief political commentator raised the problem and walked out because of it".
"It's a mixture, that leader, of bluster and obfuscation, and it doesn't address the real allegations made by Peter Oborne."
HSBC tax scandal in the Telegraph
Source: Nexis