Joanna Letts wins legal aid High Court judicial review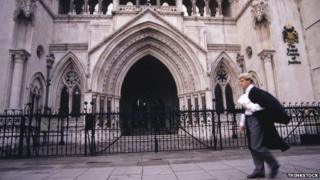 The sister of a mentally ill man who threw himself under a Tube train has won a judicial review making it easier for bereaved families to have legal aid.
Joanna Letts was denied legal funding at the inquest into the death of her brother, who was able to leave hospital despite expressing suicidal thoughts.
The current rules on emergency funding were found to be unlawful and the judgement could help families of the deceased at inquests into their deaths.
Christopher Letts died in August 2013.
He was killed at Tooting Bec station in south London, and although the single mother-of-four previously won the right to have legal representation, Friday's ruling should make it easier for other bereaved families.
Mr Justice Green's ruling overturns previous guidance which he said set the threshold for bereaved families needing legal aid too high in order to participate effectively at the inquest.
The Ministry of Justice said it would be carefully considering the judgement.
'Jump through hoops'
Ms Letts said: "This is a really fantastic result and I am so pleased that I have done something which will help other grieving families to get representation to secure accountability and to find the truth.
"I could not have hoped for more. I wanted to do this for my brother and others who have lost someone they loved dearly".
Saimo Chabal, who represented Ms Letts, said: "Families have had to jump through hoops to get legal aid in inquest cases. I hope that this will no longer be the case."
Referring to the previous guidance, which has been deemed unlawful, she said "once again the Lord Chancellor has got it wrong".
She added: "The court could not have spoken more clearly.
"I am certain that this guidance has led to injustice for many bereaved families who have been deprived of representation and therefore accountability and scrutiny into the death of their loved one at a time when they needed help."
A spokeswoman for the Equality and Human Rights Commission, which acted as an independent expert in this case, said the right to life was the "most precious human right a person can have".
She said: "We are pleased that the court agreed with us that, where the situation demands it, a family involved in an inquest does need legal aid for representation."
The inquest into the death of Mr Letts is due to open on 23 February.