Mafia man Domenico Rancadore to be extradited to Italy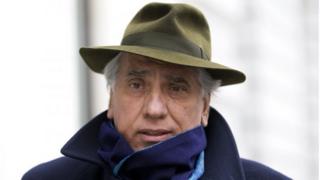 A convicted Mafia boss who lived in London for more than 20 years must be extradited to Italy, a judge has ruled.
Domenico Rancadore was arrested in August 2013 after he was found living in Uxbridge, west London, under the alias of Marc Skinner.
He was convicted in his absence in 1999 of being a member of a criminal organisation and sentenced to seven years in jail.
The 65-year-old had launched an 18-month battle against his extradition.
At Westminster Magistrates' Court, Judge Howard Riddle ruled there was no abuse of process and that Rancadore's Article 3 rights, regarding inhuman and degrading treatment, would not be breached by extradition to Italy.
Rancadore, who is known as The Professor, can now appeal to the High Court.
BBC legal affairs correspondent Clive Coleman, who was in court, said: "His extradition was sought under the European Arrest Warrant scheme and the grounds for opposing extradition under that scheme are very limited, and we are waiting to hear from his lawyers as to whether they intend to make this last ditch appeal.
"At the moment his extradition has been ordered here at court today and in the normal run of things that would mean him being returned under the extradition to Italy in the next 10 days."
Following the ruling, a spokesman from the Italian Embassy said: "We are pleased that a British judge has recognised that there is no longer a problem with the Italian prison system which prevents extradition to Italy in general."
Rancadore moved to London from his native Sicily in 1993 with his wife and two children after he was acquitted at the end of a three-year court case over Mafia allegations.
But in a second trial in 1999, the former teacher was convicted in his absence of being part of a criminal organisation between 1987 and 1995.
While in Britain, he had run a travel agency.
Since his arrest in 2013, he has fought a legal battle to prevent his extradition.
In March 2014 he defeated a bid to extradite him on grounds that prison conditions in Italy would breach his human rights.
Days later he was told he would not face an appeal because the Crown Prosecution Service had missed a deadline to lodge the appeal.
But he was rearrested in April after a fresh European Arrest Warrant was received from the Italian authorities.