Metal thefts 'down by a third' in England and Wales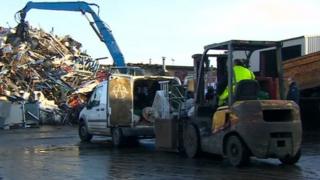 Metal thefts have fallen by a third in England and Wales since a new law to tackle the trade in stolen metal came into force, new figures show.
Thefts fell from about 60,000 a year to 40,680 in 2013/14 following the introduction of the Scrap Metal Dealers Act 2013, according to the Local Government Association (LGA).
The law requires dealers to hold a licence to trade, and bans cash payments to mobile scrap collectors.
Unlicensed traders can be fined £1,000.
The South East region saw the biggest fall in metal thefts (46%) since the act came into force in October 2013.
It was followed by London (44%) and the North West (40%).
'Significant drop'
The LGA estimates that metal thefts - of materials including electricity cables, railway lines, war memorials, road signs, children's playground equipment and church roofs - cost the country as much as £770m a year.
"Such a significant drop in metal thefts is excellent news for communities who have suffered from the chaos, disruption and heartache caused by unscrupulous metal thieves," said Ann Lucas, chairwoman of the LGA's Safer and Stronger Communities Board.
The Scrap Metal Dealers Act 2013 requires all scrap dealers and motor salvage operators in England and Wales to apply for a licence from their local authority and keep records on whom they buy from.
Some 8,000 licences have been issued since the law was introduced.
It also gives councils the power to assess whether each licence applicant is a "suitable person" - including examining criminal convictions - and more powers to carry out inspections.
Dealers who operate without a licence face prosecution - with fines of up to £1,000, limits on trading hours and the possibility of being shut down.
The first closure notice on a dealer trading without a licence was served last month in Milton Keynes, Buckinghamshire, the LGA said.
An unlicensed dealer in Lichfield, Staffordshire, was ordered to pay costs and fines totalling £1,961 after pleading guilty to illegal trading, it added.