UK 'flooding risk' remains after 'supertides'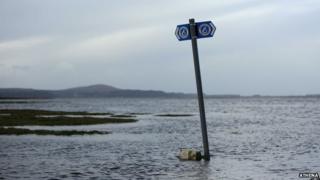 Coastal areas in the UK remain at risk of localised flooding following the highest tides in nearly two decades, the Environment Agency has said.
The so-called 'supertides', or spring tides, reached the peak of an 18-and-a-half year cycle over the weekend.
The agency said south west, south and north west coasts were at risk.
BBC Weather forecaster Emma Boorman said the tides were reducing but strong winds may generate some large waves along some western and southern coasts.
Four flood warnings and 46 flood alerts remain in place in England and Wales - and in Scotland there are 13 flood warnings and nine flood alerts.
'Unusually high'
Ms Boorman said: "The high tide level will be dropping quickly from Monday, so although there may still be some large waves on Tuesday any impacts are expected to be minimal."
Nigel Goody, duty flooding manager for the Scottish Environment Protection Agency said a risk of localised flooding remained along all exposed parts of the west, north and east coasts, and in coastal areas in the Western Isles after the "unusually high spring tides".
"Heavy rain is expected on Wednesday and Thursday which may affect western Tayside, Central Scotland and the south west and we are monitoring this closely," he said.
The high astronomical tides occur when the position of the sun, moon and earth align in such a way that they combine to create a greater than normal force over the oceans.
The greater force meant the tides were higher than usual spring tides.