Erol Incedal retrial: Terror suspect 'had Tony Blair's address'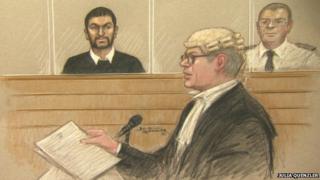 A man accused of planning a Mumbai-style terror attack in the UK had the address of a property owned by Tony Blair, the Old Bailey has heard.
The retrial of Erol Incedal, 27, from London, heard how police had found the address on a piece of paper in a glasses case in his car.
He denies intending to commit a terrorist act and is being retried after jurors failed to agree on a verdict at a trial last year.
Parts of the trial will be in secret.
The court heard how Mr Incedal had been found guilty of possessing bomb-making instructions last year, but the original jury could not agree on a charge of preparing terrorist acts.
'Exceptional case'
Richard Whittam QC, prosecuting, said the retrial was "an exceptional case" as parts of it would be held in secret, without the presence of the public and the press.
The jury will hear that Mr Incedal was "actively engaged with another or others who were abroad", Mr Whittam said.
"The prosecution case is that such engagement was for an act, or acts of terrorism, either against a limited number of individuals, an individual of significance, or a more wide-ranging and indiscriminate attack, for example the one in Mumbai in 2008," he added.
The attack in the Indian city, in November 2008, left 164 people dead.
When Mr Incedal was arrested he was found with a number of documents, a computer and a piece of paper with an address on it, Mr Whittam added.
"It refers to a property that is owned by Tony and Cherie Blair," he said.
He said the jury must consider if the address of the former prime minister was "significant as a potential target".
Information 'from uncle'
Police also found evidence on the computer of what they claim were references to carrying out a gun attack, Mr Whittam said.
He said a forensic analysis of Mr Incedal's laptop had revealed coded email exchanges during the summer of 2013, in which one author refers to "new information from uncle".
The message continued: "He may be able to find you straps. These straps are not the little ones. They are like the ones we have here, you know k1122aaashhh."
It would be up to the jury to decide if that was a possible reference to bullets and Kalashnikov rifles, Mr Whittam said.
Mr Incedal is charged with intending to commit a terrorist act between February 2012 and October 2013.
He was arrested in October 2013 with another man, Mounir Rarmoul-Bouhadjar, who has admitted possessing a bomb-making guide.
The trial continues.