UK Arctic ambassador called for by House of Lords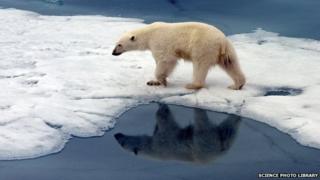 The United Kingdom should create an ambassador for the Arctic or risk being pushed out of key decisions for the region, a House of Lords report says.
The Lords committee says with the Arctic warming fast, there will be huge challenges and opportunities for the environment, ecosystems and people.
It recommends an increase in government science budgets focusing on the Arctic.
And the committee also says oil firms should re-consider their plans for drilling in the region.
According to the BBC's environment analyst, Roger Harrabin, the report goes on to say that the UK needs to be involved in vital decisions over oil exploration, fishing and strategic access as Arctic summer sea ice inexorably melts.
The current slump in oil price offers a moment to examine whether fossil fuels can be safely extracted in Arctic waters, the Lords say, who also urge international standards on drilling.
They also want a moratorium on fishing in the high seas area of the central Arctic Ocean to prevent a damaging free-for-all as fish migrate north with global warming.
The committee goes on to warn that the world will warm even faster if methane is released from the Arctic seabed.