'Jihadi John': Emwazi's school not aware of radicalisation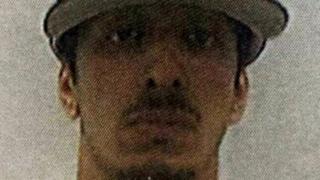 Islamist militant Mohammed Emwazi was never suspected of being radicalised at school, his former head teacher says.
Jo Shuter, who was head of Quintin Kynaston Academy in north-west London until 2013, said he had not been "seen as a huge concern" as a pupil.
Emwazi has been named as the man known as "Jihadi John" in several IS hostage videos.
Two other pupils from the school are also thought to have gone to fight in Syria and Somalia.
Ms Shuter, who was head teacher for more than 10 years from 2002, said there had been no indication that any pupils were becoming extremist.
"I am not prepared to say when the radicalisation took place. All I can say is absolutely hand on heart, we had no knowledge of it. If we had we would have done something about it," she said.
"There was never any sense that any of these young men as I knew them were radicalised when they were in school."
She told the BBC she remembered Emwazi as "quiet and reasonably hardworking", though with the usual problems of teenage pupils.
'Hard-working, aspirational'
"He had some issues with being bullied, which we dealt with, and by the time he got into the sixth form he was to all intents and purposes a hard-working, aspirational young man who went on to the university he wanted to go to," she said.
She added: "I can't stress enough, he wasn't a huge concern to us."
Ms Shuter said the school had had an ethos of tolerance and created an atmosphere "where young people could talk to adults, there was always somebody that was available to talk to if they were concerned."
She added: "I can't even begin to say the shock and the horror that I feel.
"Even now when I'm listening to the news and I hear his name I feel the skin on the back of my neck stand up because it is just so far from what I knew of him and it is so shocking and so horrendous the things that he has done."
Ms Shuter left her position as head teacher in June 2013 and was subsequently banned from teaching as a result of expenses abuses. She has been given permission to appeal against that ban.
'Cold loner'
The BBC has also spoken to a man who came across Emwazi when he first arrived in Syria about two years ago. Abu Ayman described him as a cold loner who set himself apart from others.
Unlike other Britons, Emwazi wanted to appear in IS videos, Abu Ayman said.
"He was cold. He didn't talk much. He wouldn't join us in prayer," he said.
"He'd only pray with his friends. … the other British brothers prayed with us, but he was strange."
Abu Ayman said IS had professional psychologists who would select certain fighters for specific roles.
"Some love him," he said.
"Some joined Isis after watching and admiring him; they take him as an example.
"Isis play him like a piano. He's a celebrity to attract our Muslim brothers in Europe."
"But," he continued, "some think he is showing off; they think he's being used by Isis."
---
Mohammed Emwazi timeline:
1988: Born in Kuwait, moves to UK in 1994
2009: Completes computing degree at University of Westminster
Aug 2009: Travels to Tanzania with two friends - he says for safari - but refused entry at Dar es Salaam. Put on flight to Amsterdam. After questioning there, returns to Dover
Sept 2009: Travels to Kuwait to stay with father's family
July 2010: Returns to UK for short stay but told he cannot return to Kuwait as visa denied
2012: Passes Celta English language teaching course
2013: Changes name by deed poll. Tries to travel to Kuwait but is stopped. Disappears. Parents report him missing. Police tell family four months later he has entered Syria
Timeline source: Cage, London-based campaign group
---