Mexico human rights: Cameron to raise issue with Pena Nieto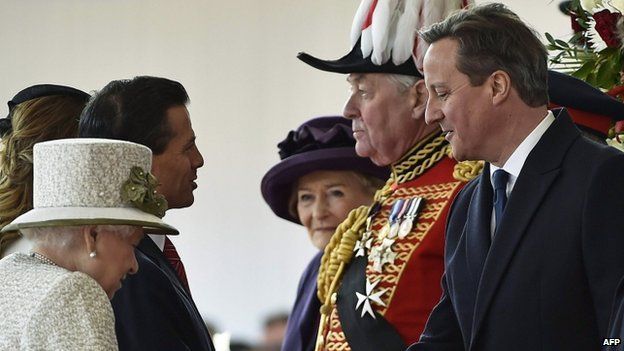 David Cameron will "raise concerns" about human rights when he meets Mexican President Enrique Pena Nieto later, Downing Street has said.
Mexico's judicial system will also be discussed, as Mr Pena Nieto continues his three-day state visit to the UK.
Amnesty International said torture was "out of control" in Mexico, where it said police and security services had "blood on their hands".
Mr Pena Nieto attended a state banquet hosted by the Queen on Tuesday.
Speaking about the meeting later, a spokesman for Mr Cameron said: "You can expect the prime minister to raise concerns that have arisen with regard to human rights and the judicial system in Mexico.
"We have done so before and will continue to do that.
"We will do that in the spirit of collaboration that we have with the Mexican government and the Mexican authorities."
Mr Pena Nieto has faced growing public anger over the handling of the abduction and apparent murder of 43 trainee teachers, who prosecutors say were arrested by corrupt police officers and handed over to a gang to be killed.
The students were last seen alive at a protest in the town of Iguala in September, when police fired on the crowd and killed six people before arresting the 43.
Welcoming Mr Nieto and his wife Angelica Rivera at a Buckingham Palace banquet on Tuesday, the Queen spoke of the "enduring friendship" between the UK and Mexico.
She said the countries were "natural partners on many pressing issues in today's international agenda".
Speaking in Spanish, Mr Pena Nieto said: "You, Your Majesty, have been a source of identity and unity to your people.
"You have been a key figure to reaffirm your nation as a global player."
Among his engagements later, Mr Pena Nieto will meet Deputy Prime Minister Nick Clegg and Labour leader Ed Miliband, give a lecture at Lancaster House in London, and attend a banquet held by the Lord Mayor and the City of London Corporation.