Three men arrested in terror fraud probe linked to Syria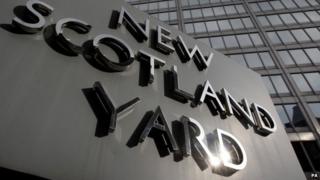 Three men have been arrested in a counter-terrorism inquiry after reports of people being tricked out of money in "cold calls" by bogus police officers.
The arrests are part of a police probe into large-scale fraud linked to UK extremists travelling to Syria.
Two men, aged 29 and 23, were arrested at addresses in west and east London on suspicion of money-laundering, and have now been released on bail until April.
A third man, aged 37, was held in west London on suspicion of the same crime.
He remains in custody at a south London police station.
Seven addresses across London have been searched as part of the investigation, and officers are still searching an eighth property.
Scotland Yard said there were reports of vulnerable and elderly people being called over the phone by someone impersonating a police officer.
Victims were then told their bank account had been compromised and they needed to transfer money to another account. One elderly person lost about £150,000.
Two of the offences relate to two victims in their 80s from Cornwall, who were allegedly defrauded of £130,000.