Operation Elveden: Sun reporter's MoD mole revealed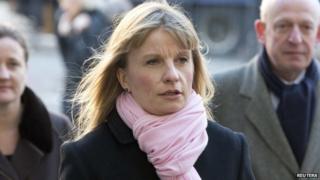 For seven and a half years, the Sun newspaper had a "paid" mole at the heart of the Ministry of Defence.
The "covert intelligence source" was Bettina Jordan Barber, a 42-year-old civil servant respected by her colleagues and trusted with highly-sensitive information.
Married to an Army officer, she had "Developed Vetting" security clearance and she advised St James's Palace and Clarence House on army matters when Princes William and Harry were serving officers.
According to veteran chief reporter at the Sun, John Kay, she delivered "belting exclusives" and "splashes" on a regular basis and was paid handsomely for them.
The full story of her role as a paid informant for the Sun could not previously be disclosed for legal reasons.
'Ace military contact'
Now the betrayal of her position can be reported in full for the first time.
From January 2004 to August 2011, Mr Kay's "Number One" or "Ace military contact" supplied information for 65 stories and was paid exactly £100,000.
Arrested in February 2012, Jordan Barber was a major figure in the eight-month trial of Rebekah Brooks where details emerged of emails, between Mr Kay and Mrs Brooks, requesting authorisation for payment.
Mrs Brooks's replies revealed the value of the information being sold: "Brilliant scoop!" she once wrote.
However, for legal reasons, the jury in that trial were not told that Jordan Barber had already pleaded guilty to misconduct in public office, nor were the jury in the John Kay trial told of her plea, or the fact that she was jailed for a year in January.
Mrs Brooks was cleared of conspiracy to commit misconduct in public office.
Secret payments
Once sanctioned, the payments would be made via a money transfer to Jordan Barber's local branch of Thomas Cook travel agents. To conceal the identity of its source, the Sun would pay the tax due on each payment.
Jordan Barber had started work for the Ministry of Defence (MoD) in 1997 and shortly after signed a declaration to confirm she understood that she was bound by the Official Secrets Act.
As she worked her way up, and enjoyed various postings, she would be asked for advice by government ministers and senior officers.
Crucially, at one stage, she dealt with disciplinary issues and the deaths of servicemen and women on active service abroad.
---
---
'Godfather J'
The first recorded contact with the Sun's chief reporter came in December 2003. For John Kay, Jordan Barber was his "best ever" contact.
She worked at the heart of the military establishment, and the Sun traded on its reputation as the favourite paper of the "rank and file" in the armed forces.
The relationship between the two appeared to be close: Mr Kay's number was stored in her mobile phone as "Godfather J"; texts recovered from her phone showed that she would regularly "pitch" stories, some would be taken up, others rejected.
The range of exclusive stories that appeared in the Sun, from tips supplied by Jordan Barber, showed the breadth of the information she had access to.
From the salacious products of disciplinary hearings - "Married colonel faces boot over fling" - to details of fatalities: "William's Major Killed by the Taliban".
Jordan Barber was paid £3,000 for the "William's Major" story.
In September 2005 Major Matthew Bacon was killed in Iraq after the Snatch Land Rover he was travelling in was blown up by an Improvised Explosive Device.
Nearly eight years later his parents were told, by Metropolitan Police officers from Operation Elveden, that Bettina Jordan Barber had sold information about the circumstances of his death to the Sun newspaper, information that would have come into the public domain anyway.
Matthew's father Roger Bacon recalls: "We just felt really, really, that it was a total betrayal of trust in the job that she was doing. You know, we had lost our son. How could someone want to do this for money?"
Bomb chief shock
In 2010, the Sun carried the front-page splash: "Army Bomb Chief: I Quit". The dramatic headline was a shock to the man at the centre of it - the head of the Army's bomb disposal team, Colonel Bob Seddon.
He said: "I was absolutely dismayed that after 27 years' loyal service, in which I had put my life on the line on countless occasions, that my final departure from the Army was going to be marked with such negative publicity."
The Sun's story pointed to Col Seddon as being the source, yet Mr Kay had been tipped off - with Jordan Barber leaking the details of his resignation.
What was supposed to be a dignified handover of his duties in his final year, became clouded in controversy with whispers at the MoD that Col Seddon was not to be trusted.
Speaking after Jordan Barber was jailed, Col Seddon told the BBC: "I could not believe it when I was told by the Metropolitan Police that the source of the information about me, used by the Sun, was a corrupt MoD civil servant."
Jordan Barber's conduct has ended her career, resulted in a prison sentence and could have an effect on her husband's future chances of promotion.
She will have to pay back the £100,000 she received from the Sun, plus interest.