Tobacco tax 'must help clear litter' - MPs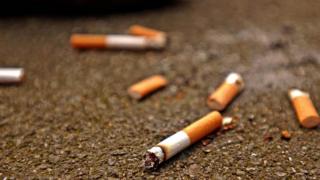 Tax earned from tobacco sales should be used to help with the cost of clearing up cigarette litter, MPs have said.
A Communities and Local Government Committee report also calls for laws forcing businesses to keep the outside of their premises free from rubbish.
It stopped short of calling for a "chewing gum tax" - but warned the industry "to put its house in order".
Local Government Minister Kris Hopkins said the government was funding a number of schemes to tackle littering.
The cost of cleaning up litter in England is estimated to be about £850m, the report says.
Chewing gum and smoking materials are the biggest litter problems, it says.
The cross-party committee also found that the amount of fast food litter in England has increased by about 20% in the last year. It recommended that shops, restaurants and fast food chains be compelled by law to keep the outsides of their premises rubbish-free.
'Losing battle'
Fly-tipping levels have also risen by about 20%, and new fixed penalty notices should be introduced for people who dump household items, the MPs said.
Committee chairman Clive Betts said councils were spending "hundreds of millions of pounds of taxpayers' money fighting a losing battle" against litter.
"Handing a portion of tobacco levies to local councils to help pay for the cost of clearing cigarette litter would show government is serious about getting tough on litter," he said.
Local Government Minister Kris Hopkins said industry should play a part in clearing up litter where appropriate but that "most of all it is up to individuals not to drop rubbish in the first place".
"Litter is costing council taxpayers hundreds of millions of pounds every year before we even get to the eyesore it causes and the environmental cost," he said.
"That's why we are abolishing backdoor tip taxes and have supported weekly bin collections to help stop fly-tipping and bin blight."
The government is funding projects including Clean Up Britain, Keep Britain Tidy, and a national community clear-up day on 21 March to tackling littering, he added.