Dangerous dogs sentencing consultation begins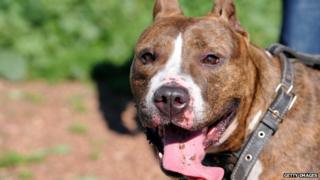 People who breed dogs to be aggressive or used as weapons could be among those most severely punished under new dangerous dog sentencing guidelines.
The Sentencing Council has drafted new guidance for courts after maximum sentences were increased last year.
The maximum sentence for anyone whose dog kills a person will increase from two to 14 years.
The proposed guidelines for England and Wales will now go out to experts and the public for consultation.
More than 200,000 people a year are estimated to be bitten by dogs in England.
'Potentially devastating impact'
The proposals follow changes to the Dangerous Dogs Act 1991, which came into force last year, that significantly increased maximum sentences and introduced a new offence to cover attacks on assistance dogs.
It also extended the law to cover offences on private property, which could include attacks on postal workers while delivering mail.
Judge Julian Goose, a member of the Sentencing Council, said: "Most dog owners are responsible, care for their pets properly and keep them under control but some irresponsible owners put others at risk of injury or death and we want to ensure that the courts have the guidance needed to help them sentence offenders appropriately.
"In drawing up our proposals, we have been very aware of the potentially devastating impact of these offences on victims. Long sentences are available for the most serious offences."
The top end of the sentencing ranges could involve someone who has bred or trained a dog to be aggressive, used it as a weapon or to intimidate people, or owns a dog which carries out a fatal attack.
However, the guidelines also cover incidents where the dog owner was less culpable.
This could include someone who has been a responsible dog owner and taken safety precautions but whose dog escapes from their house and kills someone in the street.
The proposed guidelines also reflect the increase in the legal maximum from two to five years for an owner whose dog injures a person.
Trevor Cooper, dog law specialist at Dogs Trust, the UK's largest dog welfare charity, said courts often faced the "difficult task" of deciding on appropriate sentencing in dog cases, which could be "emotive and complex".
He said the guidelines would provide "much-needed clarity and consistency" in assessing cases.
The consultation closes on 9 June 2015.
The Sentencing Council said it wanted to hear from people with "expertise or an interest in the issue".