Child abuse: Protect police who aid inquiry, MPs tell Cameron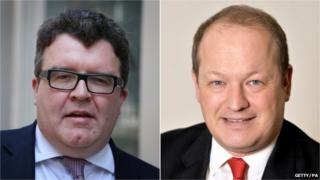 Police and intelligence officers who give evidence on an alleged Westminster paedophile ring must be protected from prosecution, two Labour MPs say.
Tom Watson and Simon Danczuk said David Cameron must guarantee officers would not face official secrets charges for aiding an inquiry into the Met Police.
The home secretary said she would not expect such an officer to be charged.
Investigators are looking into claims that the Met covered up abuse because MPs and police officers were involved.
Ministers said assurances had been given that police could give evidence.
Earlier, a former police officer told BBC Newsnight an undercover operation which gathered evidence of child abuse by the late MP Cyril Smith and other public figures was scrapped on the orders of a senior officer.
The former officer said he and his colleagues were ordered to hand over all their evidence and were warned to keep quiet about the investigation or face prosecution under the Official Secrets Act.
And an investigative journalist has said he was threatened by Smith and then his office was raided by the police after he began looking into abuse in 1984.
'High-level corruption'
On Monday, the Met said it had voluntarily referred 14 allegations against itself to the Independent Police Complaints Commission (IPCC) - plus two others which the IPCC is still considering whether to take on.
The corruption allegations, which span a period from the 1970s to the 2000s and include claims that child abuse was covered up, arose from Operation Fairbank, a Met investigation launched in 2012 looking into historical abuse claims involving politicians and other public figures.
The IPCC has said it will "manage" an investigation that was already being conducted by the Met's Directorate of Professional Standards into the alleged corruption.
The claims were of "high-level corruption of the most serious nature", the IPCC said.
Mr Watson, who has been credited with raising the profile of child abuse with a Commons statement in 2012, said: "It is now clear that the prime minister must guarantee that former police and intelligence officers who wish to help the IPCC with their inquiries will have the threat of the Official Secrets Act lifted."
He said it was the "duty of all former police officers, intelligence officers and civil servants who have knowledge of a cover-up" to come forward.
Mr Danczuk, who is MP for Smith's old seat of Rochdale and helped expose the late Liberal MP as a child sex abuser, also said ex-officers must be given the "freedom to speak out".
"There has to be a more formal response from government which says that former police officers who co-operate, give evidence and share their knowledge of what went on with regard to this alleged cover-up should not be disciplined in any way, with regard to the Official Secrets Act or in any other way," he said.
People who are or have been Crown servants - including police officers - can be prosecuted for disclosing certain information covered by the Official Secrets Act.
Home Secretary Theresa May said she "hoped" no police or intelligence officer would be prosecuted under the act for giving evidence to independent or police inquiries into abuse.
She said she would "not expect them to be".
BBC home affairs correspondent Tom Symonds said there "is definitely a view that the government should be clearer about saying there is absolute immunity for police officers… whistleblowing in this sort of situation".
"The question arises, for example, what if a retired police officer speaks to a journalist? Is he at risk of being prosecuted then?" he said.
---
Power of the Official Secrets Act
The Official Secrets Act 1989 makes it an offence for any member, or former member, of the security services, police or civil service to disclose official information "without lawful authority"
It is also an offence for a journalist to repeat any such disclosures.
The areas covered by the act include releasing information on defence, international relations, security service activities, foreign confidences and information that might lead to a crime being committed.
The maximum penalties for breaking the law are two years' imprisonment, an unlimited fine or both.
---
The claims against the Met include an allegation that a victim's statement was altered to remove the name of a senior politician.
There are several other claims of cases being dropped because suspects were "prominent people", as well as a claim that police officers sexually abused a boy and carried out surveillance on him.
The former officer who gave information to Newsnight spoke through an intermediary, saying he was fearful of repercussions because of the scale of the alleged cover-up.
He said:
the operation started in 1981 and found substantial evidence of men abusing boys aged about 14.
it targeted south London addresses including a flat in Coronation Buildings, Lambeth - a tenement block less than a mile from Parliament.
a hidden camera was installed in the flat with the help of a caretaker. Smith and a senior member of Britain's intelligence services were among the suspects filmed.
the investigation also had evidence on two senior police officers.
Smith was later arrested after reportedly taking part in a sex party with teenage boys - but he was released that night and a sergeant who wanted to keep him in custody was reprimanded.
Investigative journalist Don Hale told BBC Radio 5 live he was working for the Bury Messenger in 1984 when Barbara Castle, then an MEP, told him an "extraordinary tale of a paedophile ring within Westminster".
He said he asked several MPs - including Cyril Smith - to comment on the story and Smith "stormed" into his office, said the information was "rubbish" and demanded all documents relating to the claims.
Mr Hale said he refused, and the next day three Special Branch officers and about a dozen police raided his office, "pushed me against the wall" and took all the documents - which then "disappeared".
'Very high up'
Retired Det Sgt Jack Tasker, who served with Lancashire Police, told the BBC he investigated and interviewed Smith, who "made admissions about making boys strip off while he 'disciplined' them".
But he said two men in civilian clothes came to his police station, took all documents relating to Smith and said they were taking over the investigation.
"That was the last I ever heard of it," Mr Tasker said, adding that he considered it a "cover-up" which came from "very high up" - probably from London.
A statutory inquiry is currently in progress to establish whether institutions took seriously their duty of care to protect children from sexual abuse in England and Wales.