Duchess of Cambridge presents St Patrick's Day shamrocks to Irish Guards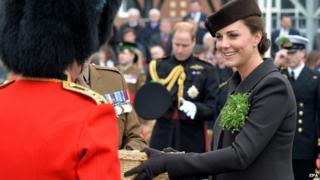 The Duchess of Cambridge has presented shamrocks to soldiers from the Irish Guards to mark St Patrick's Day.
The Duchess handed out bunches to officers and guardsmen at Mons Barracks in Aldershot.
But she struggled to pin a sprig on the collar of the regiment's mascot Irish wolfhound, Domhnall, as it kept falling off.
She was joined at the parade by the Duke of Cambridge, who is Royal Colonel of the Regiment.
Domhnall's handler Drummer Dean Kirk said: "It wouldn't go on his collar, we had a bit of trouble with the shamrock."
The Duchess later joked about the mishap with three children who presented her with a posy of white flowers.
Catherine, who is expecting the couple's second child, wore a gold shamrock brooch which was originally presented by the Irish Guards to the Queen Mother, who traditionally led the ceremony during her life.
The ceremony was inaugurated in 1901 by Queen Alexandra, wife of the then king, Edward VII.
Ever since then, a senior female member of the Royal Family has carried it out.