MPs voice prison safety concerns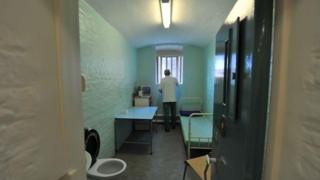 Funding cuts and reforms in England and Wales have contributed to a drop in prison safety over the past two years, a parliamentary report says.
The House of Commons Justice Committee expressed "grave concern" over increases in assaults on prison staff and inmates between 2012 and 2014.
It also raised concern about suicides, self-harm and indiscipline in prisons.
Prisons Minister Andrew Selous said modernisation of the system had created "an estate fit for purpose".
The cross-party committee has published its findings after a year-long inquiry.
Its report drew on official figures showing that the number of suicides in English and Welsh jails rose from 61 in 2012 to 84 in the first nine months of 2014.
'Troubling' statistics
Assaults on staff and other inmates rose by 7.1% and self-harm by 9%, while recorded incidents of "concerted indiscipline" rose from 94 to 153, when comparing the first nine months of 2014 with the same period of 2012.
The increases also came during a period when the Ministry of Justice implemented a modernisation programme to replace old prisons with new facilities.
It also made efficiency savings and altered the prisoner incentive and earned privileges schemes.
The report said that evidence gathered from HM Inspectorate of Prisons, the government's performance data, independent monitoring boards, and the Prisons and Probation Ombudsman "all indicate a deterioration in standards of safety and performance across the prison estate over the last two years".
It added: "The decrease in safety is particularly troubling, with an increase in assaults and self-inflicted deaths.
"We considered it improbable that there is no link between estate reconfiguration, benchmarking, and changes in operational policy, including the incentives and earned privileges scheme, and the shift in safety across the prison estate.
"In particular, we conclude that the fall in staffing levels stemming from redundancies and increased turnover, which at their most acute have resulted in severely restricted regimes, are bound to have reduced the consistency of relationships between officers and prisoners, and in turn affected safety."
'Millions saved'
Juliet Lyon, director of the Prison Reform Trust, said the "devastating report" was a "powerful indictment of this government's complacent and dismissive attitude to rapidly deteriorating standards and safety in our prisons over the last two years".
The Ministry of Justice said the report would be considered "carefully" but added that it had already set a target to recruit 1,700 prison officers this year, which it expected to achieve.
It also said that the government's package of reforms would save the taxpayer £300m each year from 2015/16 and the total number of hours worked in prisons had increased from 10.6 million to 14.2 million over the past four years.
Mr Selous said: "Our modernisation programme has created an estate fit for purpose, and saved the taxpayer millions of pounds."
Shadow justice secretary Sadiq Khan said: "This government's policies have seen jails turn into dens of violence where inmates are idling away their time in their cells instead of being on courses or working."
Correction: This story has been amended to clarify that suicides in English and Welsh jails rose from 61 in 2012 to 84 in the first nine months of 2014, not from 123 in 2012 to 141 in 2014 as previously stated.