Litvinenko 'suspect' willing to co-operate with inquiry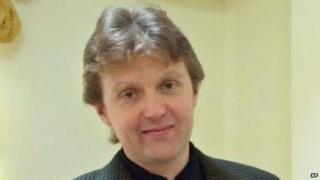 One of the suspects in the killing of the spy Alexander Litvinenko is thought to be willing to co-operate with the inquiry into his death, lawyers say.
The inquiry was told a man "who gave his name as Dmitri Kovtun", one of two men accused of killing the ex-Russian agent in London, had made contact.
Mr Litvinenko died of radioactive poisoning on 23 November 2006.
Mr Kovtun and Andrei Lugovoi have been named as suspects by police but both deny involvement and remain in Russia.
Mr Litvinenko is believed to have been given a fatal dose of polonium-210 in his tea during a meeting in a London hotel, on the first day of the month of his death.
The 43-year-old had been an officer with the Federal Security Service - the successor to the KGB - but fled to Britain where he became a UK citizen and fierce critic of the Kremlin.
Counsel to the inquiry Robin Tam QC told chairman Sir Robert Owen: "During the course of the last fortnight, the solicitor to the inquiry has received communications from a man who has given his name as Dmitri Kovtun.
"He has said he is willing to take part in the inquiry."
He said it was not known if he intended to instruct legal representatives and there was no prospect of hearing any evidence from him before Easter.
'Unexpected development'
Sir Robert said: "It is highly regrettable that it is so late in the day that this approach and application from Dmitri Kovtun has been made."
Ben Emmerson, QC for Mr Litvinenko's widow Marina, said: "It is an unexpected development that Mr Kovtun should now seek to show his face, but if that's what he wants to do, then we would be more than happy to facilitate the opportunity to have a proper chance to question this man about his conduct and his role in the murder of Mr Litvinenko."
He added: "Should he be questioned by the police? There's an ongoing investigation in to his responsibility for the murder."
Richard Horwell, QC for the Metropolitan Police Commissioner, said: "We have grave concerns about what may be behind this development."
Sir Robert added: "Concerns that are shared by me."
He said however the inquiry decided to proceed, he would set strict time limits.
"This matter cannot be allowed to drift on, but I don't think there's anything more I can say now."
---
The Litvinenko case
23 Nov 2006 - Mr Litvinenko dies three weeks after having tea with former agents Andrei Lugovoi and Dmitri Kovtun in London
24 Nov 2006 - His death is attributed to polonium-210
22 May 2007 - Britain's director of public prosecutions decides Mr Lugovoi should be charged with the murder of Mr Litvinenko
31 May 2007 - Mr Lugovoi denies any involvement in his death but says Mr Litvinenko was a British spy
5 Jul 2007 - Russia officially refuses to extradite Mr Lugovoi, saying its constitution does not allow it
May-June 2013 - Inquest into Mr Litvinenko's death delayed as coroner decides a public inquiry would be preferable, as it would be able to hear some evidence in secret
July 2013 - Ministers rule out public inquiry
Jan 2014 - Marina Litvinenko in High Court fight to force a public inquiry
11 Feb 2014 - High Court says the Home Office had been wrong to rule out an inquiry before the outcome of an inquest
July 2014 - Public inquiry announced by Home Office
---
'Something strange'
KGB bodyguard-turned politician Lugovoi arranged to see Mr Litvinenko on 2 November, but on the morning of 1 November called him to rearrange for later that day.
Mr Litvinenko agreed to the meeting and went to see Mr Lugovoi after an appointment with security expert Mario Scaramella.
Footage showed Lugovoi and Kovtun separately using toilets near the Millennnium Hotel's Pine Bar - which is not covered by CCTV - in the half an hour before Mr Litvinenko arrived.
The inquiry has heard there were "extremely high readings" of a radioactive substance in the men's toilets.
In a police interview from his hospital bed, Mr Litvinenko said he refused a drink at the meeting with Kovtun and Lugovoi, the inquiry was told.
But as Lugovoi got up to leave he was told to help himself to the tea that was left in the pot.
He said he poured himself the remaining tea - which was only about half a cup - but did not like it as it was cold, sugarless green tea.
"Maybe in total I swallowed three or four times - I hadn't even finished that cup," Mr Litvinenko said.
His statement continued: "When I left the place I was thinking there is something strange. I had been feeling all the time, I knew that they wanted to kill me actually.
"I knew that they wanted to kill me because I was told about it."
The next public hearing in the inquiry will be on 30 March at 11:00 BST.