UK government to pay compensation over death of Iraqi civilian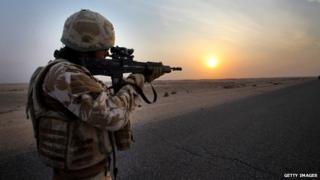 The UK Government will pay compensation to the family of an Iraqi civilian who died after soldiers used "excessive force" when restraining him, Defence Secretary Michael Fallon says.
Nadheem Abdullah died from a blow or blows to the head by one or more British soldiers serving in Iraq in May 2003, a report found.
The report said the force used was "more violent than was required".
Mr Fallon said the family would receive "appropriate compensation".
The announcement comes after former high court judge Sir George Newman published his findings in the first report of the Iraq Fatalities Investigations.
Sir George found Mr Abdullah died after soldiers from 3rd Battalion, Parachute Regiment, used excessive force in restraining and searching him after he avoided stopping his vehicle at a checkpoint on 11 May, shortly after the invasion of Iraq.
'Excessive force'
He said Mr Abdullah died from a blow or blows to his head inflicted by one or more soldiers but that it was not possible to detect whether the injuries were inflicted by a weapon such as a rifle butt or helmet or simply a clenched fist.
The evidence pointed to the force of the blow or blows being enough to cause a ruptured or fractured skull, which then caused a brain haemorrhage, he said.
He added that there was no evidence that Mr Abdullah had tried to attack the soldiers or presented a direct threat to them during the incident in Maysan Province in south-eastern Iraq.
Mr Fallon said: "In the light of the facts as found by Sir George, and in particular the finding that excessive force was used, I wish to express the Government's regret at the death of Mr Abdullah in particular.
"We are prepared to pay appropriate compensation to his family."
He said the soldiers involved "have already been prosecuted and acquitted, and will not face fresh prosecutions as a result of these inquiries".
Mr Fallon also said he accepted in principle Sir George's single recommendation that armed forces personnel should be given training on policing and peacekeeping in hostile and potentially life-threatening situations if they are deployed on similar operations in future.