Muhammad Ali welcomes Prince Charles to Louisville with letter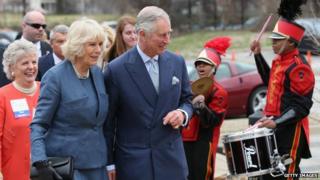 Former boxer Muhammad Ali has welcomed Prince Charles to his home city of Louisville with a letter describing the royal as "the greatest".
Ali, who is battling Parkinson's, said the Prince of Wales and Duchess of Cornwall would leave the city feeling a sense of "our southern hospitality".
His letter was read out as the couple visited an African American heritage centre, near Ali's childhood home.
The prince and duchess will spend the last day of their US visit in the city.
Louisville's Mayor Greg Fischer - reading the letter out - said Mr Ali and his wife, Lonnie, were "honoured" that the royal couple had visited the former boxer's home city.
Ali wrote that Louisville prides itself on being a "compassionate city and we are confident that you will leave feeling a sense of our southern hospitality".
He wrote: "As you travel back to your homeland, we hope you know how much this city respects and admires the many contributions you have made in the world. We think you are the greatest."
Former world heavyweight champion Ali, 73, retired in 1981 and has had Parkinson's disease since the mid-1980s.
During his visit, Prince Charles attended an international conference on sustainable communities, where he said the world faced an historic chance for change.
"If we fail here, we fail humanity," the prince told a crowd of about 1,000 at the Cathedral of the Assumption.
"As a grandfather, I have no intention of failing my or anyone else's grandchildren."
Earlier in the day dozens of local school children sang and played music to greet the heir to the British throne when he visited the Urban Laboratory Harmony and Health Initiative event at the Centre for African American Heritage.
The Prince of Wales and Camilla attended a cultural festival, hosted by the Governor of Kentucky and Mayor of Louisville, at the centre.
The royal couple toured stands showcasing the state of Kentucky and Louisville's heritage, culture, history and sustainability projects.
The Duchess of Cornwall also found herself making pizzas with a group of youngsters.
After helping them plant a rhubarb plant in a plot at Oxmoor Farm, an 18th century estate, she sat around a table in the open air and helped nine-year-old Fred Meadows create the pizza.
The children used seasonal produce in their cooking, so radishes, kale and carrots were added to the pizza - but they were cooked after the duchess had left the group.
The couple's visit to America, their first in nearly four years, sought to boost the relationship between the two allies in such areas as climate change and corporate social responsibility, the British Embassy said.