Phone hacking damages judge considers ruling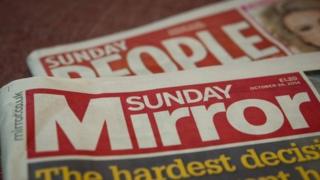 The judge hearing claims for damages by victims of phone hacking against Mirror Group Newspapers has adjourned to consider his judgement.
The High Court heard that journalists hacked the phones of eight claimants - including actors Sadie Frost and Shane Richie - from 1999 to 2009.
The company admitted publishing more than 100 stories about them as a result of voicemail interception.
Individual claims for damages have reached as high as £500,000.
Mirror Group (MGN) argued that such awards would be "excessive" and "unjustified".
BBC news correspondent Richard Lister said the initial eight cases are expected to form the basis of future claims against MGN for phone hacking.
About 100 claims are being processed at the moment.
'Unlawful and wrong'
Other high-profile figures whose claims are being considered by the judge, Mr Justice Mann, include former footballer Paul Gascoigne, BBC creative director Alan Yentob, soap stars Shobna Gulati and Lucy Taggart, TV producer Robert Ashworth and flight attendant Lauren Alcorn.
Ms Frost told the High Court that having her phone hacked made her life a "living hell".
Describing the experience as the "lowest of the low", the 49-year-old actress and businesswoman said she did not know who to trust.
Mr Gascoigne told the High Court he was "scared to speak to anybody" by phone during the 10 years his voicemail was hacked by MGN journalists.
Lawyers for MGN argued that the hacking was "unlawful and wrong" but did not cause "permanent harm" to the claimants.
The judge, Mr Justice Mann, said he would make his decision about the levels of compensation to be paid by MGN to the eight claimants "as soon as is practicable", indicating he would make a written statement.
He did not set a time limit, but court sources have suggested it will take several weeks.