Six released in Syria 'terror' probe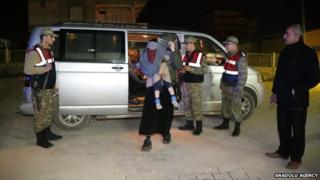 Six people arrested by UK police over alleged terror offences after a group was stopped at the Turkey-Syria border have been released without charge.
Five people aged between 21 and 47 were arrested earlier this month on suspicion of commission, preparation or instigation of acts of terrorism.
A 30-year-old man, also from Rochdale, has also been released without charge.
The councillor father of one of the five has said his son is "very happy to be back with his family".
The five were among a group of nine from Rochdale - five adults and four children - detained in Turkey three weeks ago.
The nine were initially held in the Turkish city of Hatay. They were suspected of being en route to Syria.
Hatay is 46 miles (75km) from Aleppo in Syria.
One of the five detained in Turkey was Waheed Ahmed, 21.
His father, Rochdale Labour councillor Shakil Ahmed said: "Waheed is very happy to be back with his family.
"I believe it is important to remind some of the media and fellow politicians that all people should be regarded as innocent unless proven otherwise.
"We should be careful not to express negative comment prior to the completion of an investigation or court process otherwise we risk stigmatising and demonising a family as well as potentially jeopardising peoples' right to a fair trial.
"This has been a very stressful time for our family and friends. I would like to take this opportunity to thank our lawyers and everyone else who have supported us through this difficult time include MEP Afzal Khan. We ask that you respect our privacy and allow us time to get our lives back to normality."
The five were arrested on their return to the UK as part of ongoing investigations by the North West Counter Terrorism Unit.
No evidence was uncovered to suggest any imminent threat to the communities of Rochdale or the UK.