'Syria-bound' family urged to return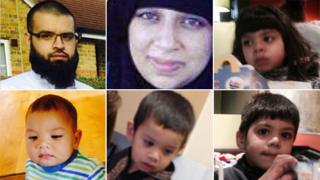 The family of a woman who is feared to have travelled with her partner and young children to Syria have urged her to return home.
Sara Kiran, 29, Asif Malik, 31, their daughter Zoha, seven, and three sons Essa, four, Zakariya, two, and Yhaya, one, were last seen on 7 April.
In a statement, Ms Kiran's family appealed for her to make contact and let them know the children were safe.
The family, from Slough, Berkshire, was reported missing on 16 April.
The statement said: "Sara, we want to let you know that we love you; we miss you, Asif and the grandchildren.
"You are not in trouble, we are not angry or upset, and we just want you to return home safely."
Police said on Sunday that online rhetoric from Islamic State (IS), the family's direction of travel and concerns voiced by relatives made officers "concerned" that they were heading for Syria.
'Come home soon'
Claycots School in Slough, which two of the children attended, also released a statement.
Executive head teacher Gareth Morris said: "We are very shocked by the unexplained absence of the Malik family and we hope the parents and their children come home soon.
"The two children at Claycots flourished with us and were a vital part of the school. We and their friends miss them and hope they are safe and well.
"We are supporting the other children at the school who are concerned for their friends and we would encourage the Malik family to get in touch with their family or the police to assure everyone of their safety."
The family left Slough without mentioning any travel plans to relatives and boarded a ferry from Dover to Calais at 00:30 BST on 8 April, police said.
Officers believe they travelled through Europe, possibly by train, and passed through Budapest, Hungary, on or around 12 April.
There has been "no trace" of the family since then, police added.
At a Thames Valley Police press conference, acting Deputy Chief Constable John Campbell stressed police were conducting a missing persons inquiry - not a criminal investigation.