Nepal earthquake: UK families appeal for missing loved ones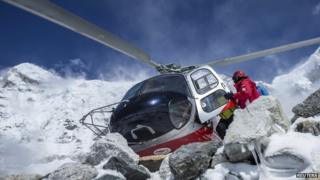 The families of some of the Britons missing in the aftermath of the earthquake in Nepal have launched online appeals for information about their loved ones.
Some have since been found safe and well, but an unknown number remain unaccounted for.
The Foreign Office has confirmed that one British dual national, Hemchandra Rai, 42, was killed in the disaster.
The married father-of-three lived in Hong Kong. Reports of another possible British victim killed at Mount Everest base camp are still being investigated.
The Foreign Office has released an emergency number - +44 (0) 207 008 0000 - for people worried about friends and relatives.
Appeals have been made for some of the missing people, including:
Matt Carapiet, 23, from Maidstone in Kent, has been registered as missing by his parents. In a post on Google Person Finder they said: "Hi Matts, hope you are safe and well, contact us know as soon as you can. Mum and Dad x"
Martin Gattuso, 38, from Norfolk, was reported missing on Sunday. He is described as a UK man living as a Tibetan monk in Nepal's Solukhumbu district, home to Sagarmatha National Park which is dominated by Mount Everest. He was last heard from on 1 April.
Marcus Barthropp, 60, from Chichester, has been reported missing via Google Person Finder. The entry from family reads: "Please let me know that he is OK."
Simon Charlesworth, 49, has been registered by a family member on the Red Cross website as a missing British expat who had moved to Asia and was in Kathmandu at the time of the earthquake.
Google, Facebook and the International Committee of the Red Cross are all operating systems to report or check on people who might have been affected by the earthquake.
News of other Britons caught up in the situation has reached their families. They include:
Laurie Gerhardt, 24, from Oxford. His mother Sue Gerhardt told the BBC that hearing from her son, who had been trekking in Nepal when the earthquake hit, made her "feel dizzy". Laurie phoned her to say he was in a camp south of the Sagarmatha National Park but it was too dangerous to leave because of aftershocks and the condition of the roads. Mrs Gerhardt said: "It's such a relief. We're hoping the Foreign Office will put some resources into getting people out of there. Just come home soon."
Susannah Ross, 20, from Bath. Her sister, Nina Ross, told the BBC that Susannah was alive but was "trapped somewhere in the Langtang valley" with about 15 other trekkers. "They are running out of food and water, some of them are injured," she said. "We want to make sure a helicopter goes to rescue them as soon as possible." News of the group's plight emerged because one of them got a message out via satellite phone, Ms Ross said. Susannah was later evacuated by a helicopter and taken to a military base at Dhunche, to the north of Kathmandu. Her sister said she should be travelling to the British embassy.
Brothers Jason and Darren Russell, 28 and 26, and Daniel Hughes, 36, all from north Wales. The trekking company they travelled with said the men's guide had been in touch to say they were waiting for a helicopter to fly them to Kathmandu. The Russell family said the news gave them a "slim glimmer of hope", but they were treating the information cautiously until they heard more. Mr Hughes' sister Joanne said it was "a great relief" to hear the men were OK.
Alex Staniforth, 19, from Chester, was at camp one on Mount Everest when the earthquake hit. He said: "I couldn't run due to huge crevasses surrounding me. I was blinded, thrown to my knees, suffocated by what felt like a snow cannon. I thought this was it - I was going to be buried." He said three Nepali staff were killed at base camp, adding: "They are very much in my thoughts and I am very lucky to be alive."
Alex Schneider and Sam Chappatte, both 28, described seeing an avalanche coming at them and having to "anchor ourselves with our axes". The couple, who are on their honeymoon, were at camp one on Everest at the time, but they have now tweeted: "We are in basecamp. Got down just before the fog. Now searching for our stuff. Its a bomb site. Bits of gear over 100m away."
Heather Chan, 34, from Dundee, has made contact with her mother. Anthea Coleman Chan said: "I think they are near a monastery and a cave so they have shelter at the moment. She said it is safe and they have enough food to last about a month so they are just rationing just now. I think they are expecting to be airlifted out by helicopter. They don't know when. But she's very lucky."
Jacqueline Toal, 34, from Glasgow, was initially listed as missing but sent a text to her family to let them know she was safe. Her father, Philip Toal, said: "I was trying not to panic. But when that text came through there was just elation. We'd heard conflicting stories about where the epicentre was so we didn't really know what to believe."
Clive and Heather Wilkinson, 55 and 41, from Bedfordshire. The family had appealed for information, but Mr Wilkinson has left a voicemail saying they are safe and are seeking transport home.
Philip James Green, 30, from London, was registered as missing by his father Rob on Sunday night. The trekking company he was travelling with has now said he is safe, according to a post on Google Person Finder.
Lynda Davis, 50, from Perth. Ms Davis had not been heard from for almost 72 hours after the earthquake but has now contacted relatives, according to the Scottish Express. She had been in Nepal for three months and was reportedly staying with friends in the Kathmandu valley.
Mark Skennerton, 50, from Essex, is no longer reported as missing on the Red Cross website. Mr Skennerton, a British expat living in New South Wales in Australia, was last known to be in the small village of Lukla at the base of Mount Everest. Lukla has become the centre for the rescue effort following the disaster.
Mary Claus, 64, from Warwickshire is also no longer listed as missing by the Red Cross. Ms Claus, a British expat living in Victoria, Australia, is also known as Maggie.
Chloe Pincho, 27, from London, is also no longer reported as missing. A previous appeal said she had not been heard from since "just after" the initial earthquake on Saturday. But This is Local London reported she had been in touch with her family to say she was now safe.