Gurkhas march to remember fallen comrades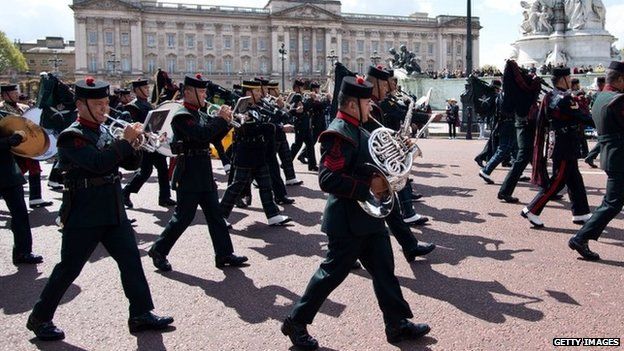 Gurkhas have marched in London to remember comrades who have sacrificed their lives for Britain over the past 200 years.
Two hundred soldiers marched from Wellington Barracks past Buckingham Palace and along the Mall to the Gurkha memorial statue in Whitehall.
Those taking part said their thoughts were with the thousands killed and injured in the earthquake in Nepal.
The Army's 3,000-strong Brigade of Gurkhas consists of Nepalese soldiers.
Its origins are found in Gurkha units which served in the British Indian Army prior to Indian independence.
The brigade carried the Queen's Truncheon during the march, a bronze and silver ceremonial staff awarded to the 2nd Gurkhas by Queen Victoria.
This was in recognition of the brigade's loyalty during the Indian Mutiny of 1857.
During the march, wreaths were laid at a memorial service held at the Gurkha statue, which bears new plaques honouring those who have taken part in recent operations.
They are the first plaques to be installed since the statue was unveiled in 1997.
More than 11,000 ex-Gurkhas have settled in the UK.
Meanwhile, a team of Gurkha engineers has flown out to Nepal on an RAF flight to join aid efforts following the earthquake which has killed at least 5,500 people.
Officials say Saturday's 7.8-magnitude quake injured at least 11,000 people.
More than 8m people have been affected and about 70,000 houses destroyed, the UN says.
Captain Lok Bahadur Gurung, who took part in the march, told the BBC it was a "proud and sad day".
He said: "Proud in a way that we, the Gurkhas, are celebrating 200 years of our service to the British Crown, and sad in a way because of the earthquake that hit Nepal on Saturday.
"We could not cancel this event because of the recent earthquake. It was planned a year ahead and we, the soldiers, we had to go on with the situation, and bear it."
Captain Gary Ghale, formerly of the 6th Queen Elizabeth's Own Gurkha Rifles, said communicating with villages such as his native Gorkha was very difficult.
He said: "To see all these heart-wrenching pictures, I am just praying, just praying for the safety of the people of Nepal and that help reaches people in time and there is proper sanitisation because the aftermath can kill more people than the earthquake itself."