Nepal earthquake: RAF Chinook due to help relief work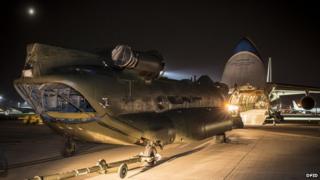 An RAF Chinook helicopter is set to arrive in Nepal to assist with relief efforts following the earthquake.
An RAF C-17 aircraft is also on its way to take Britons out of the country to New Delhi.
Officials say they are struggling to locate 1,000 EU citizens who remain unaccounted for in Nepal.
More than 6,000 people are known to have died in the 7.8-magnitude quake and nearly 14,000 have been injured.
But the fate of thousands more in many remote areas remains unknown.
An EU official said most of the missing Europeans are thought to have been trekking near Mount Everest or in the remote Langtang mountains.
Nepal has called for more foreign help, particularly aircraft, as survivors grow desperate for humanitarian aid.
British Gurkha engineers spent Thursday evening constructing a water purification system to provide safe drinking water for people who lost their homes in the quake and are now living in a camp in Kathmandu.
The Duke of Cambridge has expressed his sympathy for the people of Nepal by signing a book of condolence at the Nepalese embassy in London.
He wrote: "With my deepest condolences to the people of Nepal and my thoughts and prayers to all those affected."
The Foreign Office has confirmed that British dual national Hemchandra Rai, 42, was killed in the disaster while reports of another British victim killed at Mount Everest base camp are still being investigated.
Some 350 British citizens have been assisted by the British embassy in Kathmandu since Saturday and 120 returned home to the UK on an aid flight on Thursday, but around 30 British families are still waiting for news of their loved ones.
A spokesman for the Foreign Office said it had "assisted several groups in the mountains over the past 48 hours".
All 170 Irish citizens known to have been in Nepal have been found and the Irish Republic has given one million euro (£724,400) to the international aid effort.
An appeal launched by the Disasters Emergency Committee has raised more than £14m from UK public donations.
The UK government topped up the DEC appeal by another £5m and has pledged a further £12.5m to Nepal relief efforts - which it says makes it the largest international donor.
International Development Secretary Justine Greening said six organisations and charities had been chosen to receive £3m of the funding to deliver aid.
Save the Children, Mercy Corps Scotland, Care International UK, ActionAid, Oxfam and Handicap International will help provide more than 40,000 people with temporary shelter and access to emergency supplies.
The money will also provide 40,000 of the most vulnerable people with emergency cash assistance, the government said.
Britons have been describing their experience of the earthquake and subsequent avalanches in the Everest area.
Charity climber, Tony McMurray from Towcester, has revealed how his wife sent him text messages to say goodbye after fearing he had been killed at Everest base camp.
He said: "There was a loud noise like a multi-nuclear bomb going off.
"The very place our tents had been two hours earlier was no longer there."
He said he and fellow travellers had slept with their sleeping bags undone and trainers on "ready to run" for the next four days as aftershocks hit the area.
And Annie Tinsley from Devon managed to capture the moment she and her fellow climbers were engulfed in snow from an avalanche.