Royal Fleet Auxiliary members vote to strike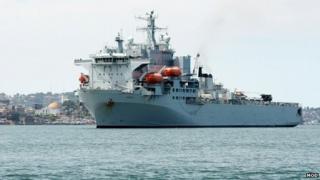 Members of the Royal Fleet Auxiliary have voted in favour of strikes and other forms of industrial action, in a row over terms and conditions.
The Rail, Maritime and Transport (RMT) union said the RFA, which supplies the Royal Navy, was trying to "bulldoze through" major changes.
RFA ships supply Royal Navy warships with fuel, food, stores and ammunition while at sea.
One of them brought aid to Sierra Leone in October to combat an Ebola outbreak.
RMT general secretary Mick Cash said: "It is unfortunate that the RFA have refused to listen to our concerns in face-to-face talks and have forced us into a position where we had no alternative but to move to an industrial action ballot.
"The issues in dispute are all about valuing a workforce that plays an integral part of the defence of the UK and training that workforce for the future."
A spokesperson for the Royal Fleet Auxiliary said: "The RFA can confirm that there is a dispute with the RMT over terms and conditions of the Future Development Programme. It would be inappropriate to comment further while the process is ongoing."
In October, the RFA Argus carried food, medical equipment and 32 pick-up trucks to Sierra Leone to help deal with its Ebola outbreak. It also transported doctors, nurses and military personnel.