'Syria-bound' couple Asif Malik and Sara Kiran return to UK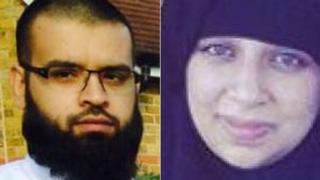 A British couple arrested in Turkey amid fears they were travelling to Syria with their four children have returned to the UK, a judge has said.
Asif Malik, 31 and Sara Kiran, 29, were held in the Turkish capital Ankara last month after British police appealed for information on their whereabouts.
The family were reported missing from their home in Slough on 16 April.
News of their return was disclosed by judge Sir James Munby following a family court hearing in London today.
Sir James said the children had been made wards of court following the launch of family court proceedings.
'Welfare'
He said the family was "safe and well" and being supported by social care staff while police inquiries continued.
Sir James, who is the senior family court judge in England and Wales, said: "The Malik family has returned to the jurisdiction of England and Wales."
"The children are wards of court and the family continues to be supported by appropriate social care services, whilst the family court continues to ensure the welfare of the children in co-operation with their parents."
The pair and their children, who are all aged seven and under, left Slough, Berkshire, on 7 April without mentioning their travel plans to relatives.
They boarded a ferry from Dover to Calais a few hours later, before travelling through Europe and crossing into Turkey through Greece.
Last month, police said online rhetoric from Islamic State, the family's direction of travel, and concerns voiced by relatives, made officers "concerned" that they were heading for Syria.
Thames Valley Police had also stressed that the family's disappearance was a missing persons inquiry - not a criminal investigation.