Network Rail workers vote to strike over pay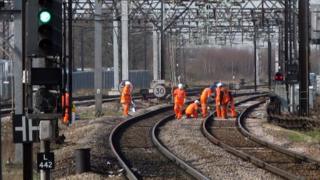 Network Rail workers have voted in favour of a UK-wide strike in a row over pay, the Rail, Maritime and Transport union has said.
Having rejected pay offers from Network Rail, 80% of members voted to strike, on a turnout of 60%.
Union bosses turned down the offer of a one-off £500 payment to staff and three years of rises in line with inflation.
Network Rail said industrial action would "have a massive impact on millions of passengers".
"It cannot be right that the unions can hold the country to ransom in this way," said Mark Carne, chief executive of Network Rail, which owns and maintains most of Britain's railway infrastructure.
Transport Secretary Patrick McLoughlin and Prime Minister David Cameron also condemned any industrial action.
'Deep-seated grievance'
In the ballot, members voted by a bigger margin - of 92% - in favour of other forms of industrial action, short of a strike.
RMT general secretary Mick Cash said the results, which will now be considered by the union's executive, showed "the anger" of staff.
A no compulsory redundancy commitment extended to the end of 2016 was also in the proposed Network Rail deal rejected by the union.
Mr Cash said: "It is now down to NR to start taking this issue seriously, to understand the deep-seated grievance felt by their staff and to come forward with a renewed offer which protects pay and jobs."
He called the one-off lump sum "wholly inadequate" and said the RMT was "extremely concerned" about the time limit applied to the no compulsory redundancy commitment.
The RMT's 16,000 members at Network Rail work across the company's operations and maintenance.
Mr Carne said Network Rail employees had received pay rises eight times higher than those of other public sector workers over the last four years and had also been offered a deal for the next four years.
He argued that unions had also rejected a number of proposals that would boost productivity.
"Industrial action would have a massive impact on millions of passengers as well as freight distribution across Britain." he said.
Mr Carne added that with a turnout of 60%, "fewer than half" of the RMT's members at National Rail had voted in favour of strike action, and urged union leaders to "come back to the table for further discussions."
---
Analysis
By Richard Westcott, transport correspondent
We're certainly a step closer to the first national rail strike in two decades.
And the fact that the RMT look after signal workers means any strike action would freeze the whole network.
But there's still a way to go before commuters face any chaos.
My understanding is that there is not an insurmountable gap between the unions and Network Rail. The sticking point isn't the whole pay deal, just this year's £500 lump sum offer, coupled with a guarantee about forced redundancies.
Both sides also say they are prepared to keep talking.
We may see strikes announced, possibly over the bank holiday.
But there is a decent chance - not definite, mind - that they will reach a new deal and call them off.
---
The new Business Secretary Sajid Javid said the government is to press ahead with introducing new laws to stop certain strikes going ahead unless they have the support of 40% of workers eligible to vote.
In addition, at least 50% of those entitled to vote will need to have done so in order for a strike to go ahead.
A spokesman for Prime Minister David Cameron said: "I think the prime minister is determined to make the changes that he said will happen because he doesn't think that commuters coming into work, parents who have to take their kids to school and the like, should be disrupted in the way that they sometimes have."
Transport Secretary Patrick McLoughlin said: "I want to see Network Rail and the unions back round the negotiating table, hammering out a deal.
"Rail passengers will not thank the unions for inflicting this unnecessary disruption."
The Transport Salaried Staffs Association is also balloting its members, with the result due over the next week.
Seven days' notice of any industrial action would have to be given by the unions.