Terror arrests reach record level, says Metropolitan Police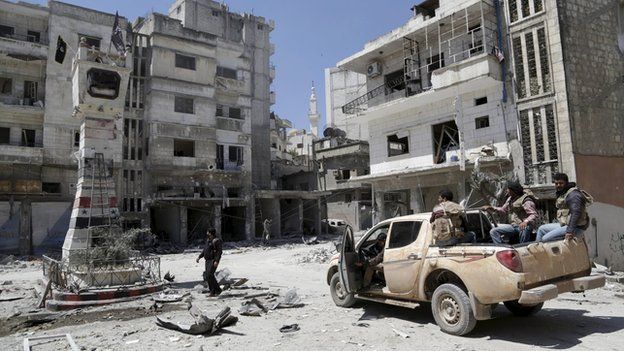 Terror-related arrests in England, Wales and Scotland reached record levels last year, when 338 people were held, Scotland Yard has said.
More than half of those arrests were related to Syria, Met Police assistant commissioner Mark Rowley said.
Police said more than 700 potential terror suspects are now thought to have travelled to Syria.
About half of those people - said to be of "significant concern" - are believed to have since returned to the UK.
The total number of terror-related arrests was up from 254 in 2013/14 - an increase of about a third.
Of the latest arrests, 56 related to suspects under the age 20 - a figure that police say represents "an emerging trend".
Suspects were arrested for offences ranging from fundraising for extremist causes to plotting terrorist attacks.
By BBC home affairs correspondent Danny Shaw
Counter-terrorism police have never been as busy as this.
Since the Syrian conflict started there has been a clear upward trend in police arrests, with increasing numbers of women and young people among those detained.
The figures were released by Scotland Yard to illustrate the extent of the threat - and the challenge facing police at a time when their intelligence capability is said to be diminishing.
Senior officers claim that changes in technology - more encryption, more use of social media, more apps - are leading to "blind spots", which terrorists are able to exploit - partly because the law hasn't kept up and also because communications providers won't give police access to the data.
So, the police argue, the need for updated powers - the so-called "snoopers' charter" - has never been stronger.
The new government has been listening - and signalled there will be a Bill - but others may still need convincing, despite the latest statistics.
Some 11% of the arrests related to female suspects. More than 100 people are awaiting trial for terrorism-related charges.
Mr Rowley, the national police lead on counter-terrorism, said suspects who had gone to Syria, where Islamist extremist group Islamic State controls a swathe of territory, were "of significant concern to us and the security services".
"They are not aid workers or visiting relatives - they are people of real concern that they are getting involved in fighting or are supportive of it. They are potential terrorist suspects," he said.
Asked about the number who have returned to the UK, he said: "It is a fairly even balance between those still out there and those who have come back."
Tracking Britain's jihadists
A BBC investigation has documented the Britons known to have died in Syria and Iraq, those who have been convicted of offences relating to the conflict there and those believed to be living in territory controlled by Islamic State.
It includes the stories of:
36 who are reported to have died
13 who have been convicted by British courts
and many others who we have established are alive and active in Syria or Iraq.
The type of terrorist threat to the UK has been "complex" and ranges from "lone actors intent on carrying out crude and violent attacks to sophisticated networks set on completing ambitious and coordinated plots", Mr Rowley said.
Islamic State and other militant groups have - through online "propaganda" - been trying to "provoke individuals in the UK to carry out violent attacks here".
"There is no doubt of the horrific nature of the offences being committed overseas. The influence of those who wish to bring similar violence to the streets of the UK has been an increasing threat here," Mr Rowley added.
Most of the Britons who have travelled to Syria since the conflict there started are thought to have volunteered as fighters for Islamic State, police have said previously.
The United Nations estimates that more than 25,000 foreign fighters, from 100 different nations, have joined militant groups in Syria.