World War One objectors added to digital archive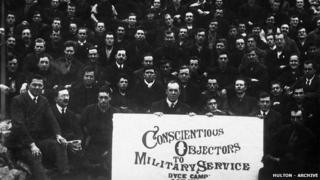 The records of more than 16,000 conscientious objectors who refused to fight in World War One will be added to an online database of those who served in the conflict.
The Imperial War Museum's Lives of the First World War features the details of 7.6 million servicemen and nurses.
Now the digital project will also tell the stories of those who rejected the war on ethical or religious grounds.
Museum director Diane Lees said the men had "risked so much".
William Harrison, a pacifist and Christian, is one of the objectors who will now be remembered on the website.
He was court-martialled and sentenced to hard labour for refusing to fight and was not released until 1919.
Joseph Alfred Pearson, a Baptist from New Brighton, gave up his conscientious objection after he was ill-treated at Birkenhead barracks.
He was sent to the frontline and killed outside Ypres in Belgium.
The names of the objectors were collated by Cyril Pearce, a former lecturer at the University of Leeds, over the course of 20 years.
His records feature documents, letters and images of 16,500 men who opposed service.
'Such hardship'
Ms Lees said the public was now welcome to add their own information to the permanent digital archive.
"We are grateful to Cyril for sharing his work with us and we hope many more people will contribute to the unique and fascinating life stories of the conscientious objectors," she said.
Those who refused to fight will also be remembered at a ceremony in Manchester city centre on Friday to mark International Conscientious Objectors Day.
Organiser Lydia Meryll, from Friends of Manchester Peace Garden, said the objectors had suffered "such hardship" for believing that it was "morally wrong to kill, even in war".
The Lives of the First World War database was launched in 2014 to coincide with the centenary of the conflict and more than 67,000 people have now contributed 600,000 facts, photographs and personal stories.
Broadcaster Dan Snow, who is an ambassador for the project, said the objectors had stood up to politicians and generals and rejected their call to arms.
"Their inclusion is vital if we're to get a real snapshot of society as a whole," he said.