Benny Green - How Grange Hill reflected a changing Britain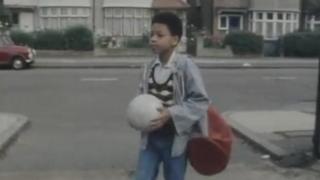 In 1978, the very first character seen on screen in a new BBC children's drama series was a young black pupil called Benny Green. This week, the actor who played him - Terry Sue-Patt - was found dead at his home in London.
To millions of schoolkids who watched Grange Hill each and every week in the late 1970s and early 1980s, Benny Green was one of them.
It was the first time that the BBC had produced a children's show that felt authentically working-class and an important part of that mix was Benny's place in the central trio of characters - a nervy, amiable foil to fast-talking Tucker Jenkins and his big, loyal mate Alan Humphries.
Benny always hugged his football like a substitute comfort blanket, muttered "flipping heck, Tucker" an awful lot and got into exactly the same scrapes as his mates. Over the years that he went from nervous newboy to confident fifth-former, he received the same punishments, chased and ran away from the same girls and spoke the same language as his two friends.
His final appearance in the show saw him save bullying victim Roland Browning from yet another beating from evil Gripper Stebson, the one character in Grange Hill who did raise the issue of racism.
Changing attitudes
The fact that Benny was black - at a time of changing attitudes in Britain - did not seem to matter a jot. His role in the show just seemed to reflect the make-up of school playgrounds and friendships in many playgrounds across the country - and offer an example to those parts of the country that had not been touched by the waves of immigration that had been taking hold in Britain's cities and towns for the previous two decades.
The innocent playground games of the time in which kids recreated the popular TV shows of the day had only offered one enduring black character - the street-smart, but dubiously employed, informant Huggy Bear from US cop show Starsky and Hutch.
Just 10 years on from Enoch Powell's so-called Rivers of Blood speech, Benny Green was a boy with a football, two good mates and a lifetime of opportunities ahead. You didn't have to be black to associate yourself more with him than with Tucker or Alan.
Quietly influential
In football grounds up and down England, talented young black footballers were fighting a battle to win over factions of supporters that were openly hostile to their success. But the following generation of boys and girls who had grown up watching a fictional young footballer were a lot more accepting.
It is significant that another successful young black child star also made his first appearance on screen in 1978. Gary Coleman started out in Diff'rent Strokes - the US sitcom in which two Harlem schoolkids are welcomed into a white family.
But the whole premise of Diff'rent Strokes was to show how different Arnold and Willis Jackson were from the white characters. In Grange Hill, Benny had the same background, speech idioms and attitude as his Grange Hill peers, both black and white.
Terry Sue-Patt, like so many child stars, may not have gone on to become a huge success on stage or screen, but the character he played remains one of the most quietly influential in children's television over the past half-century.