Queen's Speech 2015: SNP 'seat wars' silence Dennis Skinner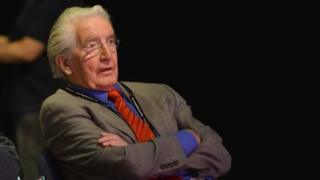 Amid the usual pomp and ceremony of the Queen's Speech, one light-hearted fixture of the occasion fell noticeably silent.
Labour MP Dennis Skinner has become synonymous with the State Opening of Parliament for shouting dry jokes once Black Rod has instructed MPs into the House of Lords.
Last year, the veteran MP for Bolsover, in Derbyshire, shouted "Coalition's last stand", when MPs were summoned.
In 2013, in a joke aimed at the sell-off of Royal Mail, he shouted: "Royal Mail for sale. Queen's head privatised."
But Mr Skinner chose to stay silent this year.
He told the Daily Mirror the absence of a heckle was because he had "other things on my mind" - referring to his apparent battle the SNP over his Commons seat.
"I've got bigger fish to fry than uttering something," he said.
"I've been fighting some other battles, haven't I? I was fighting the Scot Nats single-handed for a while."
Mr Skinner was referring to the row which has been dubbed as "seat wars".
It began last week when three Labour MPs - including Mr Skinner - sat on front bench seats which the SNP insist are meant for the third-biggest party in Parliament.
The SNP accused Labour of refusing to reach an agreement.
Before the Queen's Speech, Mr Skinner, 83, told the BBC he had reserved his traditional seat in the Commons for the occasion - and indicated he was preparing his traditional gag.
And quizzed about what he intended to shout at Black Rod, he said: "I never really decide until the last minute, but I've got a few ideas."
His previous comments include:
2012: "Jubilee year, double-dip recession, what a start"
2009: "Royal expenses are on the way" - in reference to the expenses scandal
2006: "Have you got Helen Mirren on standby?" - following release of the film The Queen
2003: "Did she lock the door behind her?" - following break-ins at Buckingham Palace
1992: "Tell her to pay her taxes" as Parliament debated the Queen's taxes