HMS Bulwark 'rescuing 500 migrants off Libya'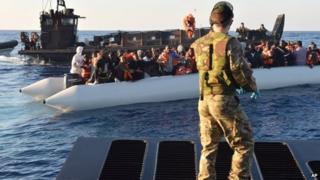 Royal Navy warship HMS Bulwark is heading towards four boats carrying migrants off the coast of Libya, the Ministry of Defence says.
A Merlin helicopter, flying from the ship, spotted a group of boats carrying about 500 people on Sunday morning.
The UK government sent the warship to aid search efforts in the Mediterranean amid a rise in the number of people dying while trying to reach Europe.
Last week, Bulwark rescued 747 people from boats off Libya's coast.
A Ministry of Defence spokeswoman said: "From first light this morning, a Merlin helicopter from 814 Squadron on-board HMS Bulwark has been conducting surveillance operations and has identified four migrant vessels in distress, containing a total of at least 500 people.
"HMS Bulwark has now commenced rescue operations to recover those in the vessels."
The 19,000-tonne assault ship was already heading towards Libya after reports 14 vessels carrying migrants had left the country's coast.
There are some 12 other European vessels also on rescue patrol in the Mediterranean.
The ships are patrolling an area of about 70,000 square miles of the central Mediterranean - looking for those migrants fleeing Africa and trying to get to Europe.
BBC defence correspondent Jonathan Beale, who is on board the Royal Navy ship, says the four boats spotted on Sunday include rubber dinghies, some of which have no sign of lifejackets for those on board.
Another is a large wooden boat which may be carrying as many as 300 people.
"We are told there are eight pregnant women on board the first rubber dinghy," he said, adding that it had been approached by two landing craft from HMS Bulwark.
Prime Minister David Cameron, speaking on Sunday while at the G7 world leaders' summit in Germany, said HMS Bulwark was in the Mediterranean because Britain wanted to save lives.
"Britain is a country that doesn't walk on by. We're a country with a conscience.
"But we also need to do more to stop these people leaving their countries in the first place. That's what we're using our aid budget for, that's what we'll be talking about at the G7, how we try and put a Libyan government together."
Mr Cameron also said the causes of migration needed to be dealt with, and not simply its consequences.
HMS Bulwark has been involved in the rescue of almost 1,800 migrants in the past month.
More than 43,000 people have already crossed the Mediterranean this year - a 50% increase on the numbers for last year.
Italy's government predicts a total of 200,000 will arrive on its shores this year, up from 170,000 in 2014.
Estimates suggest more than 1,600 people have drowned so far this year trying to cross the Mediterranean.
Many are fleeing war in Libya, where Islamic State fighters are terrorising the population, fuelling instability.
Italian navy ship Driade rescued 560 of the migrants on Saturday, including women and children, while the Irish vessel Le Eithne picked up 310 people.