7 July London bombings: What happened that day?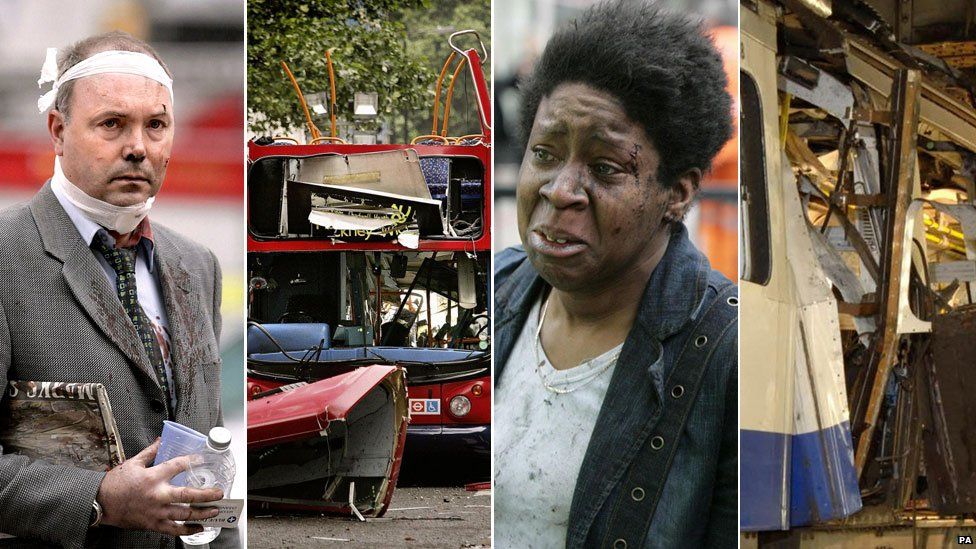 Ten years ago, four suicide bombers with rucksacks full of explosives attacked central London, killing 52 people and injuring hundreds more. It was the worst single terrorist atrocity on British soil. A decade on, we look back at how events unfolded on 7 July 2005.
The bombers' journey began at 04:00 BST as three of the group - Mohammad Sidique Khan, 30, Shehzad Tanweer, 22, and 18-year-old Hasib Hussain - left Leeds, West Yorkshire, in a rented car bound for Luton, Bedfordshire. There they met their fourth accomplice, 19-year-old Germaine Lindsay, before heading to the capital by train.
They went on to detonate four devices - three on the Underground and one on a double-decker bus.
Edgware Road attack: six killed
Three of the four bombs went off just before 08:50 BST on Tube trains that had departed King's Cross.
Ringleader Mohammad Sidique Khan detonated his device on a westbound Circle Line train heading towards Paddington. The bomb exploded at Edgware Road in the second carriage close to the second set of double doors. It killed six people.
In 2011, inquests into the deaths heard that although the bomb went off at 08:50 BST, the emergency services only reached the station at 09:12.
Inquest testimony revealed the horror of the explosion's aftermath, but also tales of great bravery and survival. Daniel Biddle, who still has a 20p piece lodged in his thigh bone and has had other shrapnel, including his door keys, removed by surgeons, recalled seeing a "big, white flash".
Aldgate attack: seven killed
Shehzad Tanweer detonated his device on an eastbound Circle Line train between Liverpool Street and Aldgate. The explosion at the rear of the second carriage killed seven people.
Russell Square attack: 26 killed
The most deadly attack occurred on the Piccadilly Line between King's Cross and Russell Square.
Germaine Lindsay detonated his bomb next to the rear set of double doors in the front carriage of the packed train, just after it pulled out of King's Cross station. Twenty-six people were killed.
Tavistock Square attack: 13 killed
The youngest of the bombers, Hasib Hussain, detonated his device on a double-decker bus in Tavistock Square, not far from King's Cross. He killed 13 people.
The bombing, the fourth and final attack, took place at 09:47 BST - about an hour after the other explosions. Hussain was caught on CCTV moving in and around King's Cross station following the first three blasts. Mobile phone records showed he had tried in vain to contact his friends.
The number 30 bus was torn apart in front of the headquarters of the British Medical Association, where a conference was being held. While medical equipment was lacking, dozens of doctors offered lifesaving expertise.
Source: All information taken from evidence provided at the 7 July inquests. All passenger positions are approximate and based on witness statements.
Produced by Lucy Rodgers, Salim Qurashi, Steven Connor