Bomb plotter Abdulla Ahmed Ali's conviction appeal rejected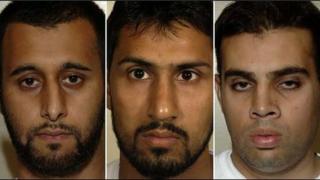 The man behind a plot to use liquid bombs to blow up transatlantic flights has failed in an attempt to use human rights laws to overturn his conviction.
Abdulla Ahmed Ali was jailed for life in 2009 after he and two others made a bomb that could be disguised in a sports drinks bottle.
He had complained proceedings against him were unfair because of extensive media coverage after a previous trial.
But the European Court of Human Rights ruled his trial had been fair.
Ali, of Walthamstow, east London, was the ringmaster of a group of three which plotted a terror attack to "stand alongside" that of 9/11.
He was convicted of conspiracy to murder in September 2009 and sentenced to life in prison with a minimum term of 40 years.
His other group members, Assad Sarwar and Tanvir Hussain, were also found guilty of conspiracy to murder and were sentenced to 36 and 32 years in prison, respectively.
The case was one of the largest terrorist plots ever discovered in Britain and led to restrictions on carrying liquids on flights.
Ali singled out seven flights to San Francisco, Toronto, Montreal, Washington, New York and Chicago that departed within two-and-a-half hours of each other.
The trial heard Ali recruited friends and associates to act as suicide bombers as part of his plot, which was uncovered in 2006.
The group recorded martyrdom videos at a flat in Walthamstow.
If successful, the explosions could have exceeded the carnage of the September 11 attacks, his trial heard.
Rejecting Ali's complaint, judges at the court in Strasbourg concluded that it had not been established that publications were "capable of influencing the jury to the point of prejudicing the outcome of the proceedings and rendering his trial unfair".