Two 'Syria-bound' UK students return to Sudan medical school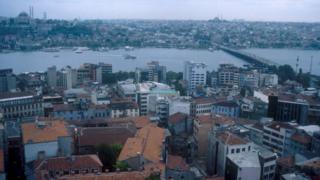 Two of seven British students believed to be travelling to Syria have returned to their medical school in Sudan, the UK Foreign Office has said.
It said the pair returned to Khartoum, where they are studying, and it was ready to offer "consular assistance".
Families of the students feared the group, who travelled to Turkey last week, were trying to get to Islamic State-controlled territory.
The BBC understands Turkish authorities helped to get the two back to Sudan.
The Foreign Office said it was working with Turkish police to find the rest of the students.
The group, who all attended the University of Medical Sciences and Technology in Khartoum, flew to Istanbul on Friday.
In March a different group of nine British medical students from the same college in Sudan also disappeared after going to Turkey.
One of the men in that group later appeared in an Islamic State (IS) propaganda film.
Two brothers Ibrahim and Mohamed Ageed, aged 20 and 22 respectively, are known to have been among the latest group of seven students.
But the names of the two who have returned have not been released.