Criminal Bar Association votes to take industrial action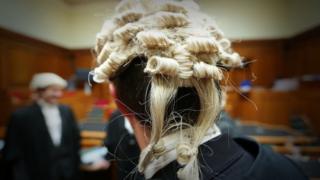 Criminal barristers in England and Wales have voted for industrial action to support solicitors taking action over government cuts to legal aid.
The Criminal Bar Association (CBA) said members had voted to back action in a poll by a majority of 11%.
It means barristers will refuse to accept new work and will no longer cover for colleagues. It is thought the action could begin within a fortnight.
Justice Secretary Michael Gove said he was "disappointed" with the result.
Some solicitors stopped taking on new legal aid cases on 1 July to protest against the government's cuts to legal aid.
It comes after their fees were reduced by 8.75% from that date, and they were also cut by the same percentage last year.
'Creaking system'
There are about 14,000 barristers in England and Wales. About 4,000 are members of the CBA, which voted in favour of action by 982 votes to 795.
Along with a refusal to take on cases issued after 1 July, barristers could also operate a policy of "no returns", withdrawing a "goodwill" system in which they cover for colleagues in court at short notice where there are diary clashes.
It is thought it will be up to individual barristers to decide whether they take part.
A CBA spokesman said: "Barristers are the oil that makes the engine turn. If you take the oil out of the engine it seizes up. This is what the effect of 'no returns' will be.
"'No returns' can have a detrimental effect on the ability for courts to function very quickly as, for a long time, publicly-funded criminal barristers have covered each other to support a creaking criminal justice system.
"This sort of action is not taken lightly as those in the profession are keen to act in the best interest of the public and the most vulnerable in society."
It is thought the action could begin within two weeks to give barristers time to comply with professional obligations on informing courts and other solicitors, along with litigants, in person.
And it is thought the CBA will look to continue having discussions with the Ministry of Justice and other legal bodies during that time.
'Close vote'
BBC legal correspondent Clive Coleman said the move by the CBA represented a significant escalation in terms of disruption in the criminal courts.
Mr Gove said: "I'm disappointed that members of the criminal bar voted in their ballot to take action, though I think it was interesting that the vote was closer than many might have anticipated, and of course there were a number of members of the criminal bar who didn't vote."
He said he did not believe the CBA's leadership thought action was "necessary at this time" and they "recognise that we want to work constructively with them and with the bar in order to ensure that we continue to have a healthy independent criminal bar".
"It is one of my top priorities and I hope that notwithstanding the vote today - which I think may be the consequence of bruised feelings in the past as much as anything else... that I can continue to work with the leadership of the CBA and with the bar council to address a number of concerns which I think are perfectly legitimate," he said.