Two Britons die in Austria mountain road car crash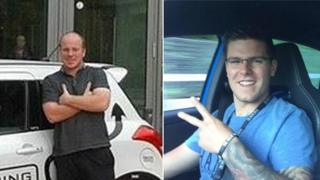 Two British men have died after their car fell 1,300ft (400m) off a mountain road in Austria, police have said.
Danny Hall, 25, and Josh Robinson, 22, both from Kent, crashed off Austria's highest mountain pass, Grossglockner High Alpine Road, on Friday morning.
They were taking part in a car rally from Brussels to Budapest when they crashed, police in Salzburg said.
The pair had filmed updates and spoken of the dangers of the trip on social media before they died, it has emerged.
Both men were pronounced dead at the scene.
The Foreign Office confirmed the deaths and said it was ready to provide consular assistance to the families.
Police said the driver had lost control of the pair's Seat Leon while driving about 8,000ft (2,400m) above sea level.
The pair were taking part in the Great European Rally, an eight-day drive through seven countries beginning in Belgium and finishing in Hungary.
A day earlier Mr Robinson posted on his Facebook page that he was "feeling determined" to take on the Grossglockner leg of the trip, which organisers describe as having 36 "hairpin bends".
On Wednesday the pair posted footage in which they told of the dangers they faced on the rally.
Mr Robinson said: "A biker's just been killed so we're kind of taking a bit of a pit stop - bringing it home though how dangerous it is."
In an online tribute following his son's death, Mr Robinson's father Marcus wrote: "Josh Robinson you have broken my heart but I forgive son your always be my little boy, daddy going to bring you home babe."
His mother Jennifer Robinson said: "Josh meant more than the world to me."
Mr Hall was "like a son", she added. "They were like brothers. It feels like I have lost two sons."
Dover Athletic Football Club wrote on Twitter: "Our condolences go out to the friends and family of supporter Danny Hall, who tragically passed away today."
Witnesses initially told police the men may have been racing with another car before they crashed, but a spokeswoman for Salzburg police said they no longer believed that to be the case.
Instead the crash was being treated as an accident, she said.
A search was launched for the second vehicle, a Porsche, before its 42-year-old British driver contacted police voluntarily.
He told officers he and another man he was with had been taking part in the same event and staying in the same hotel as the two men who were killed.
When he did not see their car at an agreed meeting point and was unable to contact them by phone he returned to their hotel and contacted the event's organisers, police added.
The Grossglockner High Alpine Road is a tourist attraction that leads to Austria's highest mountain, Grossglockner.
---
Are you in the area? If you have any information you wish to share with the BBC, you can email: haveyoursay@bbc.co.uk