Litvinenko inquiry: Key suspect 'cannot testify'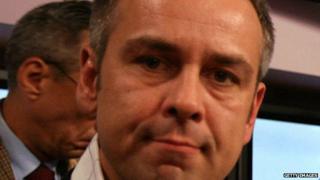 A suspect in the inquiry into the death of former Russian agent Alexander Litvinenko has told the BBC he has not obtained permission to give evidence.
UK officials believe Dmitry Kovtun and another man, Andrei Lugovoi, poisoned Mr Litvinenko in 2006, which they deny.
Mr Kovtun had been due to appear by videolink from Moscow on Monday, but said he had been unable to get permission from Russian authorities.
Mr Litvinenko's family lawyer said it seemed the case was being manipulated.
Sir Robert Owen, the chair of the inquiry, gave Mr Kovtun a deadline of 09:00 BST on Tuesday to begin giving evidence.
Sensitive documents
Mr Litvinenko, 43, had been an officer with the Federal Security Service - the successor to the KGB - but fled to Britain where he became a UK citizen and a fierce critic of the Kremlin.
In 2006, during a meeting with Mr Kovtun and his co-accused Andrei Lugovoi, Mr Litvinenko drank tea containing a fatal dose of the radioactive substance polonium-210.
Attempts to extradite Mr Kovtun and Mr Lugovoi have failed and they remain in Russia.
---
Analysis: Richard Galpin, BBC world affairs correspondent
Dmitry Kovtun - who told me in an interview earlier this year that he had once been a member of the Russian army intelligence corps - had claimed he wanted to testify at the inquiry to refute much of the evidence linking him and the other chief suspect, Andrei Lugovoi, to the fatal poisoning of Alexander Litvinenko.
He also said he wanted to get access to the key documents which are made available to all core participants.
Sources close to the inquiry say Mr Kovtun will have been able to see sensitive documents, including some which have not been made public.
It's not clear yet how significant this could be, but it had been one of the main concerns about letting Mr Kovtun become a core participant.
There are also fears that if he ignores his last opportunity to give evidence on Tuesday morning, he will try to argue that he's been denied the chance to defend himself because of circumstances beyond his control.
And there could then be attempts to question the legitimacy of the inquiry.
---
Mr Kovtun originally refused to take part in the inquiry, but changed his mind in March.
Speaking to the BBC in Moscow on Monday, the former Soviet army officer said he needed permission because testifying would risk violating an obligation of confidentiality to a Russian investigation into Mr Litvinenko's death.
He said he had been unable to contact the relevant Russian investigator.
"Even if the investigator, who I have not been able to reach, gave me permission, he would still have to make a decision on how much information I could disclose," he added.
Mr Kovtun dismissed any suggestion that he was never serious about giving evidence.
He said that if British authorities contacted investigators in Moscow on his behalf, they could still get permission for him to testify at a later date.
But the BBC's Moscow correspondent Sarah Rainsford said that seemed unlikely.
'Proceedings manipulated'
Sir Robert, referring to details of developments outlined by inquiry counsel Robin Tam QC, told the Royal Courts of Justice: "The facts as you have outlined them give rise in my mind to the gravest suspicion that an attempt is being made to manipulate the situation, so as to enable him [Mr Kovtun] hereafter to assert that he would have been willing to give evidence to assist me in this inquiry, but has been unable to do so for reasons beyond his control."
Ben Emmerson QC, who represents the Litvinenko family, said: "I can only endorse your concerns that it appears that these proceedings are being manipulated in a co-ordinated way between Mr Kovtun... and the Russian state that sent him... a continuation of a collaboration that began in 2006.
"That said, we endorse your view that there should be no place left for Mr Kovtun or his masters in the Kremlin to hide behind procedural limitations as an excuse."
On Friday, the Royal Courts of Justice in London heard Mr Kovtun had emailed to say he felt bound by obligations of confidentiality.
Richard Horwell QC, for the Metropolitan Police, said Mr Kovtun's actions did not come as "any surprise".
"It appears Kovtun's request to give evidence was nothing more than an attempt to become a core participant and obtain as much information about these proceedings as he could," he said.
Mr Kovtun denied that claim on Monday.
---
The Litvinenko case
23 Nov 2006 - Mr Litvinenko dies three weeks after having tea with former agents Andrei Lugovoi and Dmitry Kovtun in London
24 Nov 2006 - His death is attributed to polonium-210
22 May 2007 - Britain's director of public prosecutions decides Mr Lugovoi should be charged with the murder of Mr Litvinenko
31 May 2007 - Mr Lugovoi denies any involvement in his death but says Mr Litvinenko was a British spy
5 Jul 2007 - Russia officially refuses to extradite Mr Lugovoi, saying its constitution does not allow it
May-June 2013 - Inquest into Mr Litvinenko's death delayed as coroner decides a public inquiry would be preferable, as it would be able to hear some evidence in secret
July 2013 - Ministers rule out public inquiry
Jan 2014 - Marina Litvinenko in High Court fight to force a public inquiry
11 Feb 2014 - High Court says the Home Office had been wrong to rule out an inquiry before the outcome of an inquest
July 2014 - Public inquiry announced by Home Office
---