Five Britons dead after Canadian whale-watching boat sinks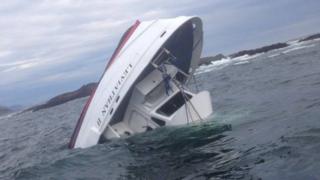 Five Britons were killed when a whale-watching boat sank off the coast of western Canada, UK Foreign Secretary Philip Hammond has said.
The boat carrying 27 people sank near Tofino, a popular tourist area on Vancouver Island, on Sunday afternoon, killing a woman and four men.
Officials said 21 people had been rescued and one was still missing.
The cause of the accident remains unknown but sea conditions at the time of the incident were said to be calm.
Barbara McLintock from the British Columbia coroner's office, said the victims ranged in age from 18 to 76. Three were tourists on holiday from the UK, while two were British nationals living in Canada - one woman from British Columbia and a man from Ontario.
The boat, Leviathan II, made a mayday call before sinking about 8 miles (12km) west of Tofino.
A dive team from the Royal Canadian Mounted Police are searching for the final missing person while Canada's Transportation Safety Board have begun an investigation in Tofino.
Mr Hammond said: "It is with deep sadness that I can confirm five British nationals have lost their lives when the whale watching boat they were on sank off Western Canada on Sunday.
"My thoughts are with the family and friends of all those affected by this terrible accident."
Mr Hammond said consular staff in the region were supporting the family members of those who had died and were in close contact with the Canadian authorities.
Within 30 minutes of the mayday call, a rescue helicopter and boat were on the scene. Other boats in the area also responded to the call for help.
Lieutenant Paul Trenholm, from the Joint Rescue Co-ordination Centre in British Columbia, said people from the nearby indigenous First Nation villages had been first on the scene.
"Without the assistance of the First Nation community this could have been much worse," he said.
Eyewitness Alec Dick, from nearby Ahousaht First Nation, told Canada's Global News network: "They got swamped by a wave. It just flipped their boat completely. I've never seen, in my involvement with search and rescue, heard this happen before."
Tofino fishing guide Lance Desilets said at least 12 rescue boats were already out on the water when he arrived on the scene.
"I saw a lot of personal belongings, a long diesel slick and the top 10 feet of the Leviathan II sticking out of the water," he said. "It's a sad day for our community."
Canadian broadcaster CBC reported that because of the size of the boat passengers would not normally be requested to wear life jackets while on board.
'Thoughts and prayers'
The 20m (65ft) boat was operated by Jamie's Whaling Station and Adventure Centres.
In a statement on the company's website, owner Jamie Bray said: "It has been a tragic day. Our entire team is heartbroken over this incident.
"We are doing everything we can to assist our passengers and staff through this difficult time. We are co-operating with investigators to determine exactly what happened."
Another whale-watching boat operated by the same company capsized in 1998, killing two people, including the boat operator and a tourist from Germany.
The six-metre vessel was on a three-hour trip in the area of Plover Reef when it was hit by a large swell, throwing four people into the water.
Tofino is a popular destination for tourists wanting to spot humpback and Pacific Gray whales, and trips usually last up to three hours.
Mayor Josie Osborne said whale-watching was a core part of the tourism business in the small tight-knit community.
"My heart sank immediately upon hearing the news," she said.
"Everyone is just pulling together and grieving for this terrible tragedy."
Canadian Prime Minister-designate Justin Trudeau thanked all those who participated in the rescue effort and offered his condolences to the victims and their families.
"I know first-hand of this coastal area's natural beauty and the many people who visit here from all around the world," said Mr Trudeau, who won Canada's national elections last week.
"My thoughts and prayers are with the passengers, the crew, and their families at this most difficult time. We will continue to offer them support in the days ahead."
---
Whale watching off British Columbia
Tofino is a popular surfing and whale watching resort near the Clayoquot area
Whale watching season in Tofino begins in March and ends in late October
The area's rugged coastline and national parks attract tens of thousands of tourists every year
Canada has over 200,000km (124,000 miles) of coastline, meaning it is one of the best locations for whale watching