Syria crisis: UK 'letting down' allies over air strikes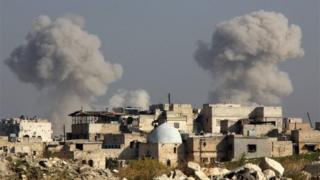 The UK is "letting down" its allies by failing to launch air strikes against terrorist group Islamic State in Syria, says Britain's top military commander.
General Sir Nicholas Houghton, the chief of the defence staff, criticised the UK policy of restricting RAF air strikes to neighbouring Iraq.
He told Sky News the decision "makes no sense" when IS, also known as Isil, has its stronghold in Syria.
MPs rejected possible UK military action in Syria in 2013.
Sir Nicholas told Sky's Murnaghan programme: "To an extent, yes, we are letting our allies down by not being a full player."
He also likened the situation where the UK could not cross Syria's borders to attack IS positions as "like being asked to win a football match but not being able to go into the opponent's half".
He added: "Isil, they have a caliphate which extends across that border.
"But the source of their power, their command and control, their logistics, their organisation, the place from which they issue orders to international terrorists, is from within Syria.
"And so to be denied our ability to play a proportionate role in that makes no sense."
He further explained to the BBC's Andrew Marr show that the UK had only ever said it could make a contribution towards an international effort to defeat IS.
"This is as much down an ideological route as it is a military route, and I do think it's important that in the end the military dimension of this is done by regional players, by Muslim countries, by local armed forces," he said.
"I don't think we should play the decisive military role because it runs the risk of adding fuel to the radicalisation of Isis as an abhorrent cult."
He also said evidence that a bomb may have brought down a Russian airliner in Syria may prove to be a turning point in the West's relationship with Russia and attitudes towards the future of Syrian President Bashar al-Assad.
"There is an opportunity for political convergence between America, ourselves, the West and Putin," he said.
Foreign Secretary Philip Hammond told Andrew Marr Britain saw "eye-to-eye" with the Russians on "lots of things" in Syria, such as "the need to destroy Isil" but he added: "The one thing we disagree on is the future of Bashar al-Assad.
"We and most of our allies believe he needs to go at a point in the transition."
The UK government remains committed to action in Syria - but will not order air strikes until it is confident it can win a vote in the Commons authorising them.
About 30 Conservative backbenchers would be likely to vote against military action and ministers are not convinced they can persuade enough of them to change their mind, or get enough Labour MPs to back their case, to win a vote.
Foreign Secretary Philip Hammond said: "The Labour Party is a different organisation to that which we faced before the summer.
"We need to understand where the Labour Party is on this. At the moment even its leader doesn't always agree with its policies.
"There is an exploration process here of understanding whether the majority of Labour MPs would, in fact, back this action."
Labour's shadow defence secretary Maria Eagle said her party needed more detail from the government on what the "aims and objectives are" and the legal position before deciding whether to back air strikes.
Defence Secretary Michael Fallon has said it is "morally indefensible" for Britain to rely on other countries to tackle the so-called Islamic State in Syria.