Modi visit: 'Huge moment' for UK and India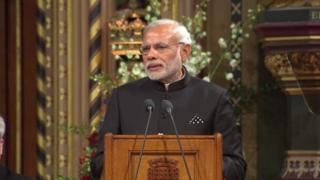 Current negotiations between the UK and India are a "huge moment for our two great nations", India's PM Narendra Modi has said on his visit to Britain.
In a speech to Parliament, he said the two countries needed to create "one of the leading global partnerships".
Mr Modi and David Cameron are due to sign deals between Indian and UK firms worth more than £9bn.
The leaders said they would collaborate on issues including finance, defence, nuclear power and climate change.
Mr Modi, whose three-day visit is the first by an Indian prime minister in a decade, said India's relationship with the UK was of "immense importance".
He also said that India viewed the UK as its "entry point to the EU".
"Yes we are going to other European countries as well, but we will continue to consider the UK as our entry point to the EU as far as possible," he added.
Mr Modi said the UK and India were "two strong economies and two innovative societies" but he said their relationship "must set higher ambitions".
"We are igniting the engines of our manufacturing sector," he told MPs.
"The progress of India is the destiny of one sixth of humanity," he added.
His speech marked the first time a serving Indian prime minister had spoken in the UK's Parliament.
Live coverage of today's political events
Modimania: India's superstar PM
Narendra Modi is seen as a divisive politician - loved and loathed in equal measure
He is leader of the Bharatiya Janata Party (BJP) and took over as PM in May 2014 after leading his party to a spectacular general election win
He served as the chief minister of Gujarat from 2001 and is regarded as a dynamic politician who helped make the western state an economic powerhouse
But he is also accused of doing little to stop the 2002 religious riots when more than 1,000 people, mostly Muslims, were killed - allegations he has consistently denied
His 18 months in power have been somewhat controversial amid concerns over rising social tensions and intolerance in India
Mr Modi is known as a brilliant public speaker and is very popular among Indian communities abroad - 60,000 people are expected to fill Wembley Stadium to hear him speak
Read more about Mr Modi and why he's so popular abroad
Mr Modi's arrival in London was marked with a flypast by the RAF's aerobatic team, the Red Arrows, over the House of Commons.
On his way to give a speech to Parliament, he visited a statue of India's independence leader Mahatma Gandhi.
During the trip, Mr Modi will meet the Queen and address crowds at Wembley Stadium.
After his Parliament speech Mr Modi addressed business leaders and politicians at London's Guildhall.
He said India was an attractive investment destination.
"Ours is the country of vibrant youths and a rising middle class. We welcome your ideas, innovations and enterprises," he said.
BBC News correspondent Christian Fraser said India's growing economy was "crucially important to British industry and trade".
Indian businesses in the UK
110,000
people are employed by Indian companies operating in the UK
13 Indian companies each employ more than 1,000 people in the UK

65,000 people work for Tata Group, which owns 5 of those 13 companies

28,000 of those work for Tata Motors, which owns Jaguar Land Rover
The visit comes at an unsettled time in India, where Mr Modi's Hindu-nationalist party lost a recent regional election.
The Bharatiya Janata Party (BJP) suffered the defeat in the northern Indian state of Bihar, amid concerns over a rise in religious intolerance in India.
His supporters will hope his visit will help him spring back from that defeat.
Why the UK visit is designed to dazzle Modi
India sends a message on talented migrants
Why British Sikhs are calling for a 'black Diwali'
How close are UK and India relations?
In pictures: Indian PM Modi visits the UK
Protesters gathered outside Downing Street, criticising Mr Modi over a number of issues including claims of religious persecution, and interference in Nepal.
Campaigners from the UK-based Awaaz Network say they are against Mr Modi's "violent authoritarian agenda that seeks to undermine India's democratic and secular fabric".
Dozens of writers have signed a letter to Mr Cameron, asking him to urge Mr Modi to "provide better protection for writers, artists and other critical voices and ensure that freedom of speech is safeguarded" in India.
Supporters of Mr Modi also gathered to welcome him.
Analysis
By Justin Rowlatt, BBC South Asia correspondent
At the heart of these big foreign visits is trade.
India is now the fastest-growing large economy in the world and David Cameron wants the UK to have a piece of the action. Meanwhile Mr Modi wants to promote his signature policy and encourage British firms to "make in India".
The big theme will be about how the two nations can enhance their "partnership".
You can expect the two leaders to announce billions of pounds worth of new deals between British and Indian companies. There'll also be talk about how the City of London can play a bigger role in the Indian economy, with plans for Indian companies to raise money in UK markets.
Mr Modi will be hoping that footage of him at Buckingham Palace and being cheered by a huge crowd in Wembley Stadium will help burnish his image in India after his party's humiliating defeat in the state elections in Bihar.
But he is a controversial figure and the visit is likely to be marked by demonstrations and protests.
During the visit, he will stay at Chequers, Mr Cameron's official country retreat in Buckinghamshire.
On Friday, Mr Modi will speak, mainly in Hindi, to some 60,000 people due at the Wembley event, which is expected to be a celebration of the Indian diaspora's contribution to the British economy.
Organisers have promised an Olympic-style reception for the Indian prime minister.