Camilla in tug of war with flower girl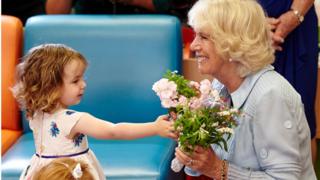 The Duchess of Cornwall found herself in a playful tug of war with a little girl determined to hang onto her bunch of flowers.
The duchess was offered a posy from 22-month-old Elizabeth Colquhoun, who then decided she wanted to keep the bouquet and refused to hand it over.
Camilla was visiting Perth's state library on the final day of the royal tour of Australia and New Zealand.
Elizabeth's mother Chantelle Colquhoun said her daughter was "strong willed".
Originally from the Cornish town of Camborne, Mrs Colquhoun, 39, was in a fit of giggles at her daughter's antics and said she was "just the same way at home".
The Duchess of Cornwall eventually managed to take the bouquet from Elizabeth and playfully held it just out of the grasp of the youngster until she grabbed it.
The duchess was at a book reading session at the time.
Meanwhile, the Prince of Wales was given a tour of a conservation centre.
He met students at the Western Australia Seed Technology Centre in Perth after attending a service at St George's Cathedral in the city with the duchess.
The royal couple have spent 12 days touring Australia and New Zealand.
Prince Charles celebrated his 67th birthday on Saturday with an Australian beach barbecue at Cottlesloe beach in Perth where he was joined by 500 guests.