Syria air strikes: RAF warplanes deployed from Cyprus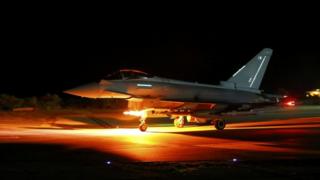 Two Typhoon jets have left the RAF's base in Cyprus for the first time since MPs backed military action against so-called Islamic State in Syria.
The BBC's Jonathan Beale said two Tornados also took off, but no details had been released about their mission.
Air strikes were carried out on Thursday and a reconnaissance mission took place overnight last night.
US President Barack Obama has spoken with David Cameron and welcomed the UK air strikes, the White House said.
A statement on the MoD website said two Tornado GR-4 jets over eastern Syria "gathered intelligence on terrorist activity" overnight.
The MoD said a second pair of GR-4s patrolled over western Iraq, where they provided air support to Iraqi forces fighting with IS militants and they dropped a Paveway IV guided bomb after a "terrorist sniper team opened fire".
Thursday's operation involved air strikes on six targets belonging to IS, which the government refers to as Daesh and has also been referred to as Isis and Isil, in Syria on Thursday.
Four Tornado jets took part in the operation, which hit the IS-controlled Omar oil fields in eastern Syria and happened soon after MPs voted to approve bombing.
The six Typhoons now at RAF Akrotiri left RAF Lossiemouth in Moray on Thursday to join the air strikes following the vote to allow air strikes to be extended from Iraq.
The White House said President Obama expressed his appreciation that British air forces had joined US forces in striking IS in Syria as well as in Iraq.
He also discussed with Mr Cameron further steps that could be taken to destroy IS.
Earlier, David Cameron insisted conducting air strikes against IS in Syria would help to bring a political settlement to the country.
Speaking during a visit to Bulgaria on Friday, where he met Prime Minister Boyko Borissov, Mr Cameron said the strikes would help bring about a political settlement in Syria because they "take the action to Daesh".
"We do need to have a moderate opposition in Syria that can be part of the future government," he said.
"So the political process and the action against Daesh to keep us safe at home go hand in hand."
He said reaching an agreement was "absolutely crucial but we can't wait for that to happen before we start taking action against Daesh".
Air strikes were launched shortly after MPs overwhelmingly backed UK military action against IS in Syria, by 397 votes to 223, after a 10-hour Commons debate on Wednesday.
Meanwhile, Germany's parliament voted to send military support to the US-led coalition fighting IS in Syria.