Phone hacking: Mirror Group loses appeal over damages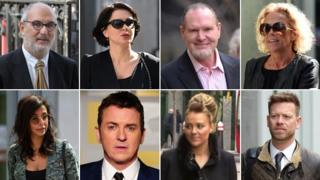 Mirror Group Newspapers has lost its appeal over damages paid to eight victims of phone hacking.
The company argued the £1.25m it was told to pay in total was "out of all proportion" to the harm done.
In May, Mr Justice Mann awarded damages to eight people including ex-footballer Paul Gascoigne, saying the invasions of privacy were "serious" and "prolonged".
MGN was refused permission to appeal to the Supreme Court but the firm later said it still intended to appeal.
Daily Mirror publisher Trinity Mirror also indicated that it would be increasing its provision to deal with civil claims from £28m to £41m.
In this case the company had agreed it should pay, but disputed the amounts.
'Great distress'
In the Court of Appeal judgement, Lady Justice Arden said it was "wrong" to look at the sums awarded without remembering that "there were misuses of private information beyond our ability to know and count".
"In addition the circulation of the private information was to a very large number of persons and touched on the most intimate part of the lives of the some of the respondents," she said.
"It understandably caused great distress."
She said there were no mitigating circumstances "at all".
"The employees of MGN instead repeatedly engaged in disgraceful actions and ransacked the respondents' voicemail to produce in many cases demeaning articles about wholly innocent members of the public in order to create stories for MGN's newspapers.
"They appear to have been totally uncaring about the real distress and damage to relationships caused by their callous actions."
'Relieved'
In court it also emerged there is to be a Victims' Right to Review of the decision on Friday by the Crown Prosecution Service not to charge 10 individuals who worked for MGN with phone-hacking offences.
Gerald Shamash, the solicitor for Gascoigne and Alan Yentob, the BBC's outgoing creative director, said his clients were "mightily relieved" with the ruling.
James Heath, of Atkins Thomson, which represented the claimants in the litigation, said it had "taken great courage" for the eight victims to "hold their nerve and persevere against the largest newspaper publisher in this country".
"In doing so, they have achieved guidance that will allow many more people to be fairly compensated for similar abuse carried out against them by the tabloid press," he said.
Actress Sadie Frost won the largest compensation payment - £260,250.
Richie, Gascoigne, Mr Yentob, Lucy Taggart, Robert Ashworth, Lauren Alcorn and Shobna Gulati were awarded between £72,500 and £201,250.
All the victims except Mr Yentob had stories about their private lives published in Mirror Group titles.
In a statement, Trinity Mirror said: "We continue to believe that the basis used for calculating damages is incorrect and we therefore intend to appeal this matter to the Supreme Court.
"As a consequence of this decision and the continued uncertainty as to how matters will progress we are increasing our provision to deal with these matters by £13m."
The compensation to each exceeded the previous record for a UK privacy case - the £60,000 the News of the World was ordered to pay former Formula 1 boss Max Mosley in 2008.