'Check settlements', couples told after divorce form error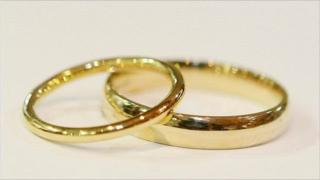 Couples who divorced in the last 20 months have been advised to check their financial settlements after a glitch was found in an online government form.
Family law specialist Nicola Matheson-Durrant, who uncovered the problem, said not all couples would be affected, but it was important people checked.
The error in the Ministry of Justice's Form E, used in England and Wales, left debts out of its automated calculation.
The Ministry of Justice has launched an urgent investigation into the problem.
The problem was present on the MoJ website from April 2014 until it was rectified earlier this month.
'Critical calculation'
It only affected Paragraph 2.20 of certain versions of Form E online, and mainly people who handled their own divorce as many solicitors use different software for financial calculations.
But Ms Matheson-Durrant, who is a lay expert at the Family Law Clinic in Berkshire, said calculating assets was a "fundamental, critical" part of the process - and couples should check carefully that they had not been affected.
She told BBC Radio 4's Today programme: "It is only about litigants in person, people who haven't got solicitors, and people who have used solicitors who have used that particular version of the Form E - there are other versions which don't have this error.
She said the problem affected people who had filled in all the boxes and let the form calculate and summarise all the totals.
"If you have printed the form out yourself and handwritten the information in, that isn't where the problem is, obviously.
"So what I would advise is that people look at their Form E first, see what versions they have got - both of their Form E and the other partner's Form E to see if any of those coincide with the faulty Form E."
She advised people to then contact their solicitor, or the Ministry of Justice if they handled their own divorce.
'Regrettable error'
The mistake could mean some of those who have settled divorces in the past 20 months could have to re-open negotiations.
BBC legal correspondent Clive Coleman said it was not yet known how many people were affected, but that there are 120,000 divorces in England and Wales each year.
Her Majesty's Courts and Tribunal Service is to contact those affected.
Those who believe they may have been affected are being asked to email the department.
A spokesman said officials were taking steps to "identify rapidly cases where this regrettable error may have had an impact", with the aim of writing to them as soon as possible.
"Anyone concerned about their own court proceedings should contact formE@hmcts.gsi.gov.uk."