Northern Lights: Your pictures of the Aurora Borealis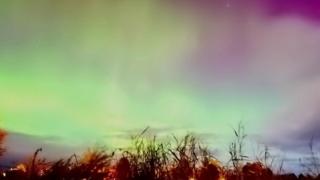 The Aurora Borealis also know as the Northern Lights have been making an appearance across parts of the UK.
Stargazers and photographers around the world have captured some stunning images of the spectacle in recent days.
Here is a selection of their images:
The Northern Lights are caused by the interaction of the solar wind - a stream of charged particles escaping the Sun - and our planet's magnetic field and atmosphere. Find out more about the Northern Lights.
The lights themselves are often visible in Scandinavian countries, but also in northern parts of the US and Canada.
The Northern Lights were also seen off the coast of Norfolk, England too. Thanks to Ben Gadsby-Williams for this time-lapse video.
Thank you for sharing your pictures with us.
You can email your pictures and video to yourpics@bbc.co.uk or upload them here.
Compiled by Rozina Sini