Jimmy Savile report: BBC culture 'to be criticised'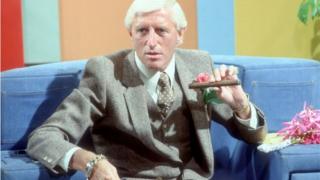 A report into cases of sexual abuse by Jimmy Savile linked to the BBC is set to criticise the corporation's culture, according to a leaked draft.
News website Exaro says Dame Janet Smith's draft report says the BBC had a "deferential culture", "untouchable stars" and "above the law" managers.
BBC head Lord Hall said lessons would be learned from a "dark chapter".
Dame Janet's team said they were "disappointed" Exaro had published the "early draft".
A statement said the document was out of date and significant changes had been made to its contents and conclusions.
"The document should not have been made public and cannot be relied upon in any circumstances," it added.
"The review will work with the BBC to arrange publication of its final report as quickly as possible to ensure that accurate and responsible reporting can take place."
Lord Hall, director general of the BBC, said: "What happened was a dark chapter in the history of the BBC.
"The responsible thing must be to act on the final report which we have not received."
He added that it would be "invaluable in helping us understand what happened and to help ensure that we do everything possible to avoid it happening again".
Reports reveal DJ abused patients, hospital staff and visitors
Mark Easton: 'How could this be allowed to happen?'
'Dirty and stupid': The victims' stories
Dame Janet's review was set up in October 2012 by the BBC to carry out an impartial investigation of the corporation's culture and practices during the years it employed Savile, thought to be from 1964 to 2007.
According to Exaro, Dame Janet does not believe the BBC can be criticised for not uncovering his "sexual deviancy".
The leaked report, which Exaro said was completed more than a year ago, should come with "a lot of health warnings", the BBC's media and arts correspondent David Sillito said.
But he said many of the quotes in Exaro's article matched "exactly" with what he had been told during his own investigations.
According to Exaro, the leaked draft:
Reveals 61 incidents of sexual assault - including four rapes and one attempted rape
Says incidents took place in virtually every one of the BBC premises Savile worked in
Says girls at Top of the Pops in the early 1970s were exposed to moral danger
Says investigations into allegations of sexual assault were "wholly inadequate"
Criticises the BBC for failing to examine Savile's personality critically, given rumours about him, and that he worked with children
Says it is "possible" that another "predatory child abuser could be lurking undiscovered in the BBC even today"
---
Who was Jimmy Savile?
In his lifetime, millions knew Jimmy Savile as an eccentric TV personality. He was one of Britain's biggest stars, a larger-than-life character who was known for tea-time TV favourites such as Top of the Pops and Jim'll Fix It as well as stints on BBC Radio 1. He was also, to some, Saint Jimmy, a diligent fundraiser who raised £40m for charity. But, a year after his death in 2011, allegations of abuse surfaced. It transpired that he was, in fact, one of the UK's most prolific sexual predators. He had been exploiting his status to prey on hundreds of people - girls and boys, men and women, but mostly vulnerable young females.
Profile: The Jekyll and Hyde TV presenter
---
Mark Watts, editor of Exaro, said at the core of the report was criticism of the deferential culture - deference to stars and to management.
As a result, no-one at the top had a clue about what Jimmy Savile was doing, he told BBC Radio 4's Today programme.
Mr Watts added that the report suggested that the fear around whistleblowing at the BBC was worse today than in Savile's time because of job insecurity.
Will Wyatt, a former BBC executive who left in the 1990s, said people would struggle to see how concerns could not have gone up the chain of command, but stressed: "I honestly never heard anything."
He said he mostly dealt with the factual and journalistic areas of the BBC, rather than the showbiz side, but did recognise it to be a deferential organisation.
"If you had said, around the time, that pop stars and DJs exploited their position, one would not be surprised. But the thought that it was happening with young kids is just beyond belief," he told Today.
"There's no argument - people should have known and he should not have been employed," he added.
Liz Dux, a lawyer representing some of Savile's victims, said she doubted her clients would accept that senior management could have done nothing to stop Savile, given 107 witnesses gave evidence [to Dame Janet] about rumours and suspicions pervading the BBC.
'Most prolific' offender
Former BBC presenter Savile exploited his celebrity status to abuse hundreds of adults and children across the country, assaulting or raping them in television dressing rooms, hospitals, schools, children's homes and his caravan.
The abuse is thought to have begun in the mid-1940s, when he was in his late teens or early 20s, and lasted until 2009.
The revelations prompted the Metropolitan Police to launch Operation Yewtree, set up to investigate historical sex offences.
Dame Janet's investigation has interviewed 375 witnesses in connection with Savile.
On Wednesday the review's website said it planned to publish the final report within six weeks, after police told them there were no longer concerns about the report prejudicing ongoing investigations.
Last year a separate report concluded Savile abused at least 63 people connected to Stoke Mandeville Hospital in Buckinghamshire, and Surrey Police said 22 pupils and one visitor had been sexually abused by him at a school for emotionally disturbed teenage girls.