Rupert Murdoch and Jerry Hall marry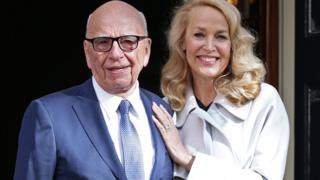 Media mogul Rupert Murdoch has married actress-model Jerry Hall in London.
Mr Murdoch, whose News UK company publishes The Times and The Sun newspapers, and Miss Hall married in a civil ceremony at Spencer House.
It is Mr Murdoch's fourth marriage and the first for Miss Hall, 59, after her 1992 Bali wedding to Sir Mick Jagger was later deemed legally void.
Australian-born Mr Murdoch, 84, who now has US nationality, tweeted he was "the luckiest and happiest man in world".
The pair will hold a private ceremony of celebration on Saturday at London's St Bride's Church, in Fleet Street, which proclaims itself as the "spiritual home of the media".
They announced their engagement in the births, marriages and deaths section of The Times in January.
Speaking at the time, a spokesman said they were "thrilled to be getting married and excited about their future".
---
Rupert Murdoch
Wealth: According to Forbes in 2015, Rupert Murdoch and his family have a net worth of $11.2 billion (£7.7bn), making him the 77th richest person on the planet
Newspapers: He inherited two Adelaide newspapers from his father at the age of 22 and built a media empire. Now executive chairman of News Corporation, Rupert and his family control 120 newspapers in five countries, including the Sun and the Times in the UK, and also own book publisher HarperCollins
Television: The Murdoch family own a large cable TV network, including the Fox channels in the US. Rupert is also co-executive chairman, with his son Lachlan, of 21st Century Fox, and owns a large stake in broadcaster Sky
Personal life: He married Patricia Booker, a flight attendant from Melbourne, in 1956. They had one child, Prudence, and divorced in 1967. His second marriage to Glasgow-born journalist Anna Torv lasted 32 years up to 1999. They have three children, Elisabeth, Lachlan and James. His third marriage to Chinese-born businesswoman Wendy Deng ended in 2013 after 14 years and two children, Grace and Chloe
---
Mr Murdoch, whose family control 120 newspapers in five countries, split up with his third wife Wendi Deng in 2013.
His relationship with Miss Hall reportedly began last summer and they are rumoured to have got engaged while in Los Angeles earlier this year.
They were first spotted together in public in October at the Rugby World Cup final in London between Australia and New Zealand.
The couple are reported to have been introduced to each other in Australia by one of Mr Murdoch's sisters and his niece.
---
Jerry Hall
Model: Born in Texas in 1956, she left home as a teenager to pursue a modelling career and was reportedly spotted by an agent while sunbathing in St Tropez. By the late 70s, she was one of the most photographed models, appearing on dozens of magazine covers. A regular at New York hotspots like Studio 54, she was the face of Yves Saint Laurent Opium perfume and Revlon cosmetics, and starred in several music videos
Personal life: After hitting the big time as a model, she became engaged to Roxy Music star Bryan Ferry. She left him for Rolling Stones frontman Sir Mick Jagger. The couple married in a Hindu ceremony in Bali in 1990 but the union was later declared invalid by a British court. The couple had four children, Elizabeth, Georgia, Gabriel and James, and split in 1999
Actress: Hall has appeared in various television, film and stage roles, including a stint as Mrs Robinson in The Graduate in London's West End. She was a contestant on Strictly Come Dancing in 2010
Wealth: She has an estimated net worth of $15m
---