Commonwealth Day: Queen calls for inclusiveness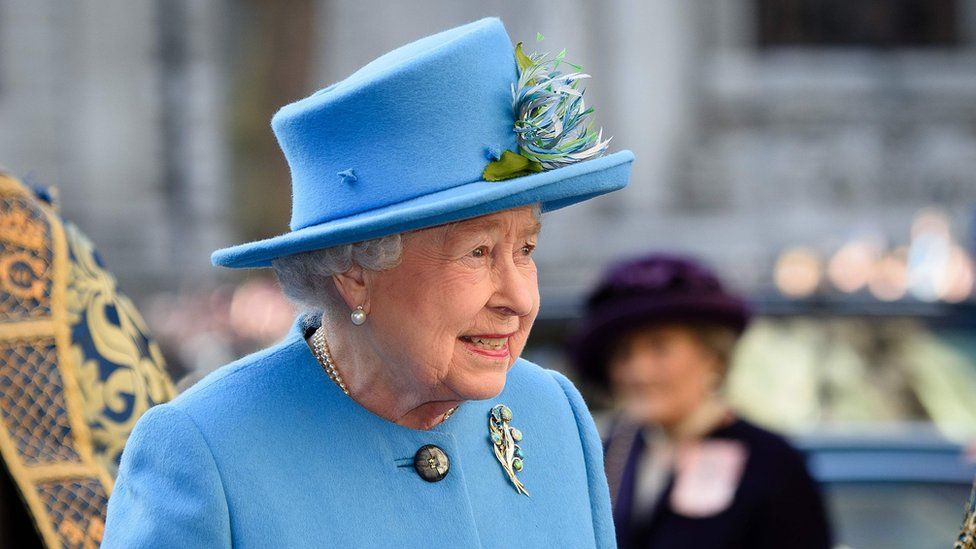 The Queen has called for people of the Commonwealth to "support those in need", as she attended a Westminster Abbey service on Commonwealth Day.
In the programme for the service, she wrote that people should help those who "feel excluded in all walks of life".
Former UN Secretary General Kofi Annan told the congregation the Queen had shown "steadfast devotion".
The Duke of Edinburgh, the Duke and Duchess of Cambridge and Prince Harry also attended the annual event.
Singer Ellie Goulding performed Sting's song Fields of Gold at the abbey.
Other guests at the multi-faith service included outgoing Commonwealth Secretary General Kamalesh Sharma, Joseph Muscat - the Prime Minister of Malta, which hosted the last Commonwealth heads of government meeting - and high commissioners from the association's 53 member nations.
In the evening, the Queen and Prince Philip were expected to attend a reception hosted by Mr Sharma at Marlborough House, the home of the Commonwealth Secretariat, near Buckingham Palace.
The Queen is the head of the Commonwealth, and her annual message to the association addressed its 2016 theme - "an inclusive Commonwealth".
In the programme, she wrote that an essential ingredient of belonging to the Commonwealth was a "willingness to share, to exchange and to act for the common good".
"By including others, drawing on collective insights, knowledge and resources, and thinking and working together, we lay the foundations of a harmonious and progressive society," she wrote.
Mr Annan told the congregation: "Today the Commonwealth stands as a confident, modern, multicultural and proudly inclusive organisation."
He said the Queen had shown "unwavering and steadfast devotion" to the Commonwealth, adding: "We are greatly honoured and deeply grateful for your extraordinary commitment to its people."
The Commonwealth, a loose association of former British colonies and current dependencies, along with some countries with no historical ties to Britain, represents 2.3 billion people, of which 60% are aged under 30.
Members include Australia, Canada, Cyprus, Fiji, Ghana, Grenada, India, Jamaica, Malaysia, New Zealand, Nigeria, Pakistan, Singapore and South Africa.
In his Commonwealth Day message, Mr Sharma, from India, said: "Globalisation, the digital revolution and interdependence make us both a rapidly compacting but also colliding world.
"The strengths of the Commonwealth were never needed more to assert fairness in global outcomes and trust in the richness of our human identities."
Related Internet Links
The BBC is not responsible for the content of external sites.